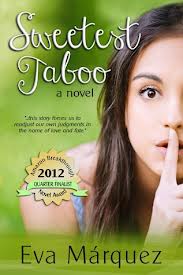 Verdict: SWEETEST TABOO is a hypnotic and thought-provoking story about a young girl in a forbidden relationship.
SWEETEST TABOO begins with a preface by Claire Stevens introducing the story that is to follow – the story of Isabel, Claire's mother, as written in her diaries.
Isabel's story reveals her growing attraction to Tom Stevens, her swim coach and how this schoolgirl crush turns into a clandestine and socially unacceptable affair between the fifteen-year-old high school student and her teacher.
Isabel develops a crush on Stevens, imagining that he is watching her and flirting with her with equal interest. The naïve and romantic visions that Isabel fosters for Stevens is both sweet but also creates a menacing feeling when Stevens, who is married and a father of two young children, approaches her and asks her to write a letter to him telling how she feels about him.  As their feelings for one another develop, the frequency of their contact and their level of intimacy grows but is kept secret to not only avoid Isabel's peers from judging her but to avoid Stevens being arrested for being physically involved with his student.
Tipped off by one of Isabel's friends, Stevens is eventually brought in for questioning by the police for his involvement with Isabel, but Isabel by this time has already relocated back to Chile with her family and denies any illicit involvement with him.  When Isabel returns to the United States and finds Stevens, she discovers both still have a deep love for one another.
Author Eva Marquez has written a beautiful book about a controversial issue.  Marquez at once conjures up beauty and an odd creepiness as she contrasts Isabel's innocence and lack of experience with Stevens' maturity but also his emotional manipulation of Isabel as he encourages her affections for him and selfishly makes her feel guilty for seeing boys her age, or considering ending her relationship with him. Several times during their relationship, he tells her, "I'm putting everything on the line for you."
Marquez's crisp, writing and characters are eloquent in their stark simplicity and candor. Isabel's character conveys a fresh innocence in her life as a young girl who sees only beauty and pure love in Stevens. Though Stevens is seen through Isabel's eyes as a nurturing and loving man, his actions oscillate between a caring adult and that of an emotionally immature partner and create a paradox with the image that Isabel has of him.  It is this wavering between pure love for Isabel and his selfishness that also adds to a lingering sense of controversy and uneasiness as the reader questions Stevens motivations for encouraging the affair.
The epilogue addresses the fact that teacher-student relationships are complicated and the affairs, once discovered have a traumatic and long-term consequence for all involved, but also beckons the reader to explore the possibility that true love may exist in some of these circumstances.
SWEETEST TABOO is a hypnotic and thought-provoking story about a young girl in a forbidden relationship.
Reviewed by Maya Fleischmann for IndieReader
https://indiereader.com/wp-content/uploads/2013/01/sweetest.jpeg
275
183
IR Staff
https://indiereader.com/wp-content/uploads/2016/12/ir-logo-2017.png
IR Staff
2013-01-29 17:15:02
2016-02-11 16:15:07
Sweetest Taboo: A Novel