Late last year we featured an interview with Karina Mikhli of On Demand Books; creators of the Espresso Book Machine.  This week we're featuring Espresso book picks from indie bookstores around the country.  Order them from their website or drop by if you're in the neighborhood and see what they have brewing!
From McNally Jackson
52 Prince Street, New York, NY  10012 212-274-1160
"Geek to Guitar Hero" by Alex Skolnick
An awkward, introverted child growing up in 1970s' Berkeley, Alex is misunderstood by his family and taunted mercilessly by classmates. Suffering from a paralyzing lack of confidence, his existence is made tolerable when he discovers the rock band, KISS, which inspires him to learn guitar.
Auditioning for a band at 16, he defies his Ivy League parents' rigid academic expectations by hitting the road with some of the biggest bands in metal.
"Conversations with a Motorcycle" by Jack Riepe
Equal parts autobiography, philosophy, and humor, this is a testosterone-fueled account of one man's struggle to define himself through his first motorcycle. The author's approach to riding will delight serious bikers who lean through high-speed curves, feel the sting of the rain, and experience the touch of fog. New riders will learn that a biker's image is forged by thousands of solitary miles, flavored by sweat, which occasionally runs cold. Those who love a rider may question their motives while yielding to their desires.
From McNally Robinson Booksellers
1120 Grant Avenue, Winnipeg MB R3M 2A6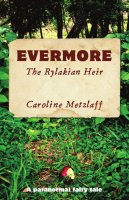 "Evermore: The Rylakian Heir" by Caroline Metzlaff

When Snow White fled from the Huntsman that fateful morning, she escaped into the neighboring Kingdom of Lonstas.  Home to Vampires, Werewolves, Elves and more, Snow's adventures in Lonstas will change the face of fairy tales forever…


"Through the Eyes of the Wean" by Alison Hutchison
The "wean" was an affectionate term for the youngest child in a family. Here Alison Hutchison recalls her childhood growing up with two older brothers in "The Gorbals", an area of Glasgow, Scotland, that has been described as "the worst slums in Europe".
Although life is not easy and material comfort is scarce, even the roughest dwelling is scrubbed until it shines, and a trip to the seaside for some fresh air is never far away (even if it means swimming in the North Sea in a hand-knitted bathing suit!).
"Through the Eyes of The Wean" is a fascinating and funny book that will touch your heart, and keep you reading until the very last page.
From Flintridge Bookstore & Coffee House
1010 Foothill Blvd, La Canada, CA  91011 818.790.0717
"Wings & Roots/Alas y Raices" by Patricia Krebs
This bi-lingual English/Spanish book was born from Krebs' experiences as an immigrant to the U.S., but it became an inspirational story about the constant search for who we truly are regardless of our own environment, classifications, differences and limitations.
Krebs, originally from Argentina, has lived in southern California since 2005.  She is an artist, singer, and writer.  The cover is a photograph of a sculpture created by Krebs with natural found objects.  The entire book is illustrated with her delicate and whimsical line drawings and is a perfect gift for all ages.
"Movietown Baby Grows Up" by Jessica Seiter Niblo
This is a blithe reminiscence of Hollywood in the 30s, 40s and 50s through the life of one family: William A. Seiter, director of 131 films, his wife Marian Nixon, actress in 63 films, and their family as seen through the eyes of the youngest child.
The story includes information about how they came to Hollywood and made their way to fame, how they worked to lead a "normal" family life in spite of governesses, glamorous parties and famous friends.  This is a scrapbook as well – with pictures galore interspersed throughout the rambling adventures of a "Movietown Baby" and her not-at-all everyday memories.
From Third Place Press
Lake Forest Park, 17171 Bothell Way NE, Lake Forest Park, WA 98155, 206-366-3333 Ravenna, 6504 20th Ave NE, Seattle, WA 98115, 206-525-2347  
"99 Girdles on the Wall" by Elena Louise Richmond
(part of the EBM database, but also distributed by Partner's West).
A memoir about growing up in a religious, repressed family and how the author broke free of all the familial hang-ups. It's witty and frank, a story about personal, professional, and sexual liberation.
Book copy:
"For her estate sale, I nailed my mother's twenty-seven girdles to the wall of her bedroom.
Girdles, instruments of torture that impede the breath, and imprison joy were emblematic of her repressive influence. Even when she lay dying, she had the energy to tell me to put my knees together."
Sometimes a sense of the absurd was all she had, but finally the elastic was no longer binding.  It had taken 35 years to extricate herself from a repressive fundamentalist upbringing, an emotionally disturbed mother and an alcoholic father. In her late forties, Elena finally fell in love with her own life. The influence of an exotic aunt,  a Buddhist singing teacher, a psychoanalyst as stubborn as she was, the wisdom of her music students, and the pilot light of her own spirit, hidden for decades under depression, helped her find her way.

"Chasing the Lantern" by Jonathon Burgess
A steampunk high-adventure novel about people who run an airship and the trouble they get into.
Book Copy:
Life was rough for Lina Stone. A career as a sky pirate under swashbuckling Captain Fengel seemed like a step up. Instead she finds that her new skipper has lost his airship and is dangerously in debt to a powerful criminal cartel.
Lina's only hope at fending off Fengel's creditors is a wrecked frigate bearing a priceless gemstone. There are just two problems: an ancient curse on the gemstone, and a vindictive rival pirate crew.
Portland, OR 97209  
"Be Just and Fear Not" by Chadwick Cunningham
A book by a former Rocky Horror Emcee who writes about his history with the film and his experiences working with live shadow casts of the show. It's a pretty wild memoir based around a pretty wild past time.
Say's Alex from Powell's, "Out of all the books we've printed, this one has been my favorite to read so far."
"The Biodome Garden Book" by Patricia Watters
With over a hundred photographs as well as several diagrams, THE BIODOME GARDEN BOOK describes how to construct and maintain a unique passive solar greenhouse and aquaculture unit with a naturally humidified, wind-powered ventilation system that requires no electricity, though one electrical outlet is needed for the pump in fish tank. Unlike the usual flimsy greenhouse structure, the BIODOME GARDEN is a design of superior strength, engineered with a high degree of structural integrity–an organic system capable of supplying animal and vegetable protein and nutrients, while also absorbing, storing, and radiating heat for a moisture-retaining, weed-free, "potting soil" garden.
Say's Alex, "People love to pick this one up off the shelf. I think I have seen more people buy this one on a whim than any other book we print."
From Schuler Books
5 locations in Michigan
"Garbio" by Larry VanderLeest
As Heard On NPR's Weekend Edition
Cowboys of the Old West, hoboes on the rails, sailors in the open seas, and miners burrowing deep underground have had their legends told and heroes held high. Now it is the garbageman's turn.
Learn of the tales, tribulations, and culture in one of the lowlier, yet necessary occupations in American society. For reasons explained in the book, the Dutch cornered the market in the Chicago area in the mid-1900s. The author labored in that setting as a young man; now, years after the aches and calluses have gone, he brings out the urban settings few people see.
"Dear Brother and Sister" by Linda Glaza-Herrington
In the spring of 1861, three young Michigan farmers respond to President Lincoln's call for volunteers. The men muster into the 4th Michigan Volunteer Infantry Regiment. Along with a thousand other men from Michigan's southern-most tier of counties, they are soon on their way to Washington, D.C. to help defend the Union. The men are prolific correspondents.
The fifty-six Civil War letters contained in this non-fiction work provide an intimate window into the men's lives. They record their daily activities, give their impressions of the battles in which they participate, and express their views on the important political events of the day. The letters are fully annotated and the narrative accompanying the letters not only helps the reader place the letters in historical context but also acquaints the reader with each man's personal family story. More than 70 pictures and illustrations, many previously unpublished, an extensive name index, and two four-generation descendant genealogies complete the work.
https://indiereader.com/wp-content/uploads/2013/01/conversations1.jpg
500
360
IR Staff
https://indiereader.com/wp-content/uploads/2016/12/ir-logo-2017.png
IR Staff
2013-01-17 08:59:32
2013-01-17 12:28:34
Indie Book Store Picks from the Espresso Book Machine