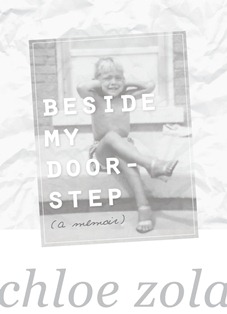 Verdict: BESIDE MY DOORSTEP is an enticing and heartwarming memoir about home and family that may find a keen audience in young adults.
BESIDE MY DOORSTEP is a bittersweet chronicle of the author's tumultuous life, as she is dragged around by her mother's instinct to be on the move; repeatedly buying houses, making a new home environment, only to flip the house and relocate when she has lost her emotional connection to the house or seeks to shed aspects of her past.
Author Chloe Zola's story weaves together elements of her mother and father's Jewish-American heritage blend of rites, rituals, language and personalities into her nomadic upbringing. Colorful and well-rounded characters come alive in this story about how the author, nicknamed 'Coconut' survived relentless relocations led by her mother's boredom.
Her father, a Russian Jew from the Midwest, believed this "restlessness" to be " the alcoholic in her [mother's] blood". With a gracious optimism, Coconut reveals how her mother's demons not only haunt and shape her mother's compulsive movements but also inevitably create new obstacles for her children. The author's tempered resignation and resilience to her situation, driven by an understanding of her mother's painful past and a desire to keep her family together allow the story to be told with little resentment and a great deal of love which highlight both spectrums of relocation – from spending Christmas listening to steel drums with her family in the Caribbean to the harrowing experiences of moving and living in Mexico.
The author's character shines as a positive and refreshingly philosophical soul despite her mother's sometimes-disruptive behavior. The themes of family and culture are conveyed, for example, through Coconut's heartfelt tradition of baking cookies during the holidays and her tight bonds with and understanding of the needs of her siblings and mother:
"When we get old enough to feel the heaviness of our parent's pasts, and the stories we read in the news, when we reach an age where we understand why people jump, when we sympathize with the concept of the "wailing wall", that's when we start to notice the difference in seasons."
The refreshing optimism makes the book charming and compelling in spite of some haphazard elements to the narrative. The chapters of the book are organized into the addresses of the houses in which the author lived; however within each chapter there is often a lack of continuity in time or subject matter. At times there is a confusing shift in the point of view and the reference to "you", or a reference to a new character with a familiarity that makes one wonder if they missed their introduction earlier.
Though there are some convoluted descriptions that rely on vague similes and imagery; the descriptions are mostly sensual, delightfully fresh and evocative. The narrative deftly conveys the author's quiet observations on life and the culture and the physical and emotional environment of each new location, often through the mother's sense of colors, food and decoration.
BESIDE MY DOORSTEP is an enticing and heartwarming memoir about home and family that may find a keen audience in young adults.
Reviewed by Maya Fleischmann for IndieReader
https://indiereader.com/wp-content/uploads/2013/01/beside.jpg
314
227
IR Staff
https://indiereader.com/wp-content/uploads/2016/12/ir-logo-2017.png
IR Staff
2013-01-21 11:18:46
2013-01-21 16:11:40
Beside My Doorstep