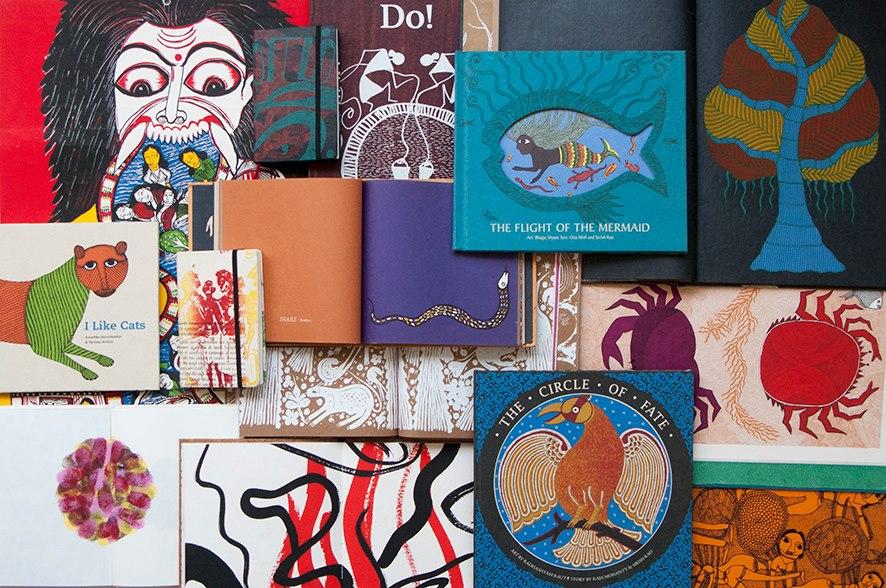 "…we strive for a union of fine form with rich content, informed by our feminist and egalitarian principles," says Jennifer Abel Kovitz, Director, Marketing and Publicity, for Tara Books, an independent publisher of picture books for adults and children.
Situated in Chennai, South India, Tara Books includes a masthead of talented and dedicated writers, designers, and artists. Founded in 1994, they continue to work with artists and writers from around the world to bring their readers truly unique experiences in the marriage of content and design.
Loren Kleinman: Should a book cover tell a story? If so, what is the story?
Jennifer Abel Kovitz: Covers should certainly convey a message. With our handmade books, the message is as much tactile as it is visual: the book-as-object can and does invite the reader to engage with it (our handmade book Waterlife comes particularly to mind, as I've seen readers compelled from across the bookstore to walk over and pick it up). The stories book covers tell are also rapidly changing, as readers are now more likely to see a cover for the first time in a digital rather than physical setting (think Amazon, online book review, Goodreads, etc). We must design inviting, intelligent, and creative covers for the screen and the shelf.
LK: What is Tara's design philosophy?
JAK: This is a delightfully complicated question to answer. Tara Books has a team of designers—some freelance, some in-house—who work on titles based on their individual interests, strengths, and availability. Their personalities and philosophies influence each title they design, as does the broader philosophical framework at Tara Books. As designers, artists, editors, and authors, we strive for a union of fine form with rich content, informed by our feminist and egalitarian principles.
LK: I know you publish picture books for children and adults. What about branching out? Would you ever consider publishing poetry? Children's poetry?
JAK: We've in fact already published both! I Saw a Peacock with a Fiery Tail is a beautiful, dye-cut masterpiece that features a trick verse poem. We also have published many of nonsense poet Anushka Ravishankar's poems, including Excuses Excuses and Catch that Crocodile.
In general, Tara is not bound by traditional categories or genres. Our books are largely visual, spanning from children's literature to picture books for all ages, to titles for adults featuring popular culture, photography and art.
LK: Tara has a talented masthead—from scholars to screenwriters. How does an artistically well-rounded staff contribute to your successful book launches?
JAK: We love a good dialogue and debate with any book project. Ideas, education, and above all, experience, add to our collective way of seeing the world. An extensive, global network of collaborators also ensures that we can spread the word about our books across the world. Our books have been translated into more than ten languages, and we continue to work with new artists and authors from different countries each year.
LK: Talk about the concept behind the Book Building.
JAC: Located by the sea in a neighborhood in south Chennai, India, Book Building was 15 years in the dreaming and 2 years in the building! A space that is at once a bookshop, a workshop space, a gallery and our main office, we hope it will further our conversations around the book as a special cultural object. We welcome visitors, often give tours, and host rotating exhibitions. We hope readers and art lovers will begin to add Book Building to their itineraries when they travel to India.
LK: I like how, in a recent article in Platform, the building is described as "evolving canvas." Aren't books in fact an evolving canvas every time we re-read?
JAC: Indeed. I think our director, Gita Wolf, has touched on this idea many times in her contributions to our blog.
LK: Comment on the concept that "[a] book is never the work of a single individual."
JAC: I think this goes back to your observation about our extensive masthead. In addition to our editorial, creative, and office staff, Tara Books employs a team of 16 artisans in our handmade book workshop. Our production manager, C. Arumugam runs the workshop in Chennai, employing the artisans he has trained into expert screen printers, binders and bookmakers. They use handmade
 paper, made from a mixture of cotton cloth waste and tree bark, rice husk or grass. The handmade book workshop is run on fair trade practices, and the workers live together as a community. The statistics are astonishing: they've created over 180,000 books, which require 11 million impressions, or individual 'pulls' for each color. Indeed, none of our handmade titles would exist without the work of many individuals working together.
JAC: In May 2013, we will release The Enduring Ark, a remarkable, accordion-fold children's book that retells the story of Noah's Arc with a more universal and egalitarian twist. It will be illustrated in the Patua style of Bengali scroll painting, a style of Indian folk art we've published before. In Fall 2013, you can expect two brand new children's books, including a new handmade stunner entitled Gobble You Up! andAlone in the Forest, the latest from one of my favourite Tara authors, Bhajju Shyam.
https://indiereader.com/wp-content/uploads/2013/01/Tara1.jpg
588
886
Loren Kleinman
https://indiereader.com/wp-content/uploads/2016/12/ir-logo-2017.png
Loren Kleinman
2013-01-04 08:39:42
2013-01-07 08:56:19
Beauty & the Book