Blurb has recently expanded their repertoire, from helping people produce kick-ass books to providing a brand new magazine format.  Listed below are a few of the best.
Refueled. Issue 10  by Chris Brown
Designer, writer, photographer, and magazine publisher, Chris Brown (no, this one doesn't sing or date Rihanna) traces his fascination with magazines back to the 60s when he would covet copies of Mad Magazine and put his own neighborhood magazines out, drawing fake ads, stapling typewritten sheets together, and selling copies to kids on his block for 10 cents an issue.
Fast forward to the present and you can see that Brown's creative drive lives on. Refueled, Issue No. 10 is the first in the series to take advantage of Blurb's new Magazine format and, like its predecessors, it focuses on community, heritage, and discovery. Brown calls Refueled "a way to introduce others to the things and people I dig."
The magazine is beautifully photographed and designed and packed with content highlighting creative types across the country – from modern-day cobblers reviving an age-old craft in Marfa, Texas to indie bands and graphic designers who look to the past for inspiration. The writing, all done by Brown, is deeply authentic with a down home tone that's never too folksy and always refreshingly unaffected.
Check it out and, while you're at it, take a look at Chris Brown's TEDx Atlanta presentation where he talks about curating as craft and reminds us all never to lose that 60s counter-culture, do-it-yourself rebel spirit.
True Calling by Scott R. Kline
Photographer Scott Kline used Blurb's new Magazine format to showcase his latest body of work – environmental portraits that feature subjects at home in their world, whether at work or play.
Combined with short profiles written by Kline's wife Patricia, True Calling gives us a glimpse into the passion that drives people's passions, like the Bacon King of Oakland, California or the couple behind San Francisco's Recchiuti Confections, an artisan line of chocolates. Many of the portraits and pieces in the magazine had homes in other publications but bringing them together under one editorial roof is not only a delight for the reader, it's also makes for an inventive portfolio for this photographer/writer, husband/wife team.
Bishnoi by Franck Vogel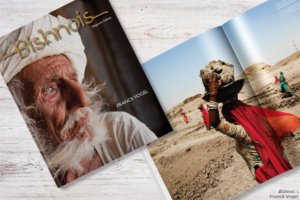 The work of French photographer and journalist Franck Vogel has appeared in Paris Match, GEO, Le Monde and many other publications – and now it's featured in his own magazine, Bishnoi. Based on a long-term project that Franck undertook in 2007, Bishnoi tells the story of a religious community that has been protecting the environment and wildlife in India's Thar desert since the 15th century.
Bishnoi gives an in-depth look at these people often called the world's first ecologists. Living according to the 29 principles put forth by the religion's prophet and founder in 1485, the Bishnoi protect wildlife, plant trees, refrain from cutting down "green" trees, and share their harvest and water with the living things around them – no mean feat given that water is not exactly easy to come by in the desert.
Eye-opening and beautifully photographed, Bishnoi is a great example of long-form journalism at its best.
**********************************************************************
To learn about creating your own magazine with Blurb, visit blurb.
https://indiereader.com/wp-content/uploads/2013/01/refueled-11.jpg
400
600
IR Staff
https://indiereader.com/wp-content/uploads/2016/12/ir-logo-2017.png
IR Staff
2013-01-31 09:28:38
2015-07-13 16:29:32
And Then There Were Magazines