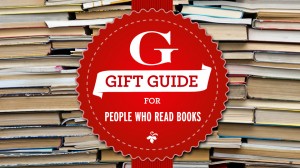 At a loss on what to buy that quirky writer or reader you hold so dear? Let us help. We've picked a slew of gifts specifically with scribes and avid readers in mind.
Grab Bag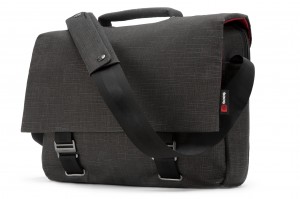 Indie authors can work from almost anywhere – Starbucks, the corner pub, a Greyhound bus bound for a weekend retreat – and it's important that their expensive devices are transported safely and in style. Mamba couriers from booq, which come in three sizes (11, 13, and 15) and colors (gray, sand, and black) – are the perfect marriage of form and function, combining waterproof, lightweight fabric with smartly designed compartments and padded pockets dimensioned to snugly keep iPads, Macs, or PCs. The bags are outfitted with durable nylon shoulder straps, meticulously crafted metal hooks, and a booq Terralinq serial tag to reunite Mambas with lost owners. ($89.95-$109.95; booqbags.com)
Sound It Out
Those ubiquitous white earbuds are OK for short rides on the subway, but they don't hold a candle to Able Planet's True Fidelity headphones. These state-of-the-art audio muffs reduce undesirable sounds and background noise as well as a superhero's invisible shield but function as normal headphones when active noise cancellation is switched off. The lightweight, adjustable headband wraps comfortably around the head and full-sized ear cups with soft cushions swivel for maximum listening pleasure. Standard accessories include a ¼" home stereo adaptor, one AAA battery, and a soft carrying pouch. ($119; brookstone.com)
Body in Motion
Writers are notorious for skipping in gym to spend more time cranking out that next chapter, which makes FitKit the perfect solution for staying active and healthy – right in the comfort of your home or office. Fitness professional Amie Hoff developed FitKit to make fitness accessible, convenient and affordable, and it includes everything you'll need for a complete workout. The system comes with resistance bands and tubing for strength training, a jump rope and pedometer for cardio, an emergency ID tag and reflective armband for exercise outside, and a starter guide to make sure you're working out safely. There's even personal training resources available online to help keep you motivated to go that extra mile. A clear mind and a healthy body will do you book good. ($34.99; fitkit.com)
Drink Tank
If you've ever had the misfortune of spilling your bev across your workspace or –worse – your laptop, you know that a good cup holder is a wise investment for anyone who spends ample time in front of a computer screen. DrinKlip easily clamps to the edge of a desk, keeping the contents of your cup away from the tasks as hand while freeing up more surface space to spread out your notes. The resilient ABS cup holder also features silicon grip pads, supports up to 25 oz., and works with any surface under 45mm thick. ($16.95; shop.coolmaterial.com)
Lead to Believe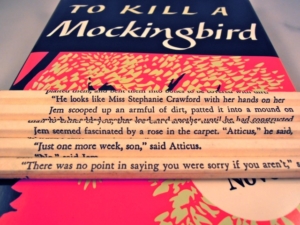 Classic literature lovers will marvel at these one-of-a-kind pencils that feature famous passages from some of the best books ever written. Mariko Walsh hand wraps each pencil individually with pages directly from celebrated tomes that include To Kill a Mockingbird, Peter Pan, and Pride and Prejudice. For the aspiring writers on your list, she offers more contemporary pencils that feature portions of the Harry Potter, Hunger Games, and Percy Jackson series. Each set includes five pre-sharpened #2 pencils. ($8; etsy.com/shop/bouncingballcreation)
Off the Wall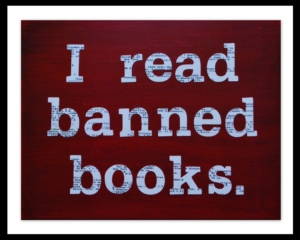 If you've ever wondered what happened to the card catalog at your local library, there's a good chance it's being repurposed as wall art by reDewey Designs. These innovative pieces of text art are fabricated from the very vintage catalog cards that made the Dewey Decimal System famous around the world. While standard sayings are available, there's also a custom option that lets you create a work all your own. In addition, for each canvas sold, reDewey Designs will make a donation to the buyer's local public library. Canvas sizes range from 5×7 to 24×30. ($100-$1,000; redewey.com)
Rise and Shine
Whether you're an early riser or prefer to burn the midnight oil, sometimes you need a boost. The Tea Can Company provides healthy jolts of energy with its line of specialty teas that includes 10 flavors like Serene Herbal, Breakfast Blend, Raspberry Oolong, Mango Amazon, and Lemon Classic ($9.99). When you require something stronger, however, it's not a bad idea to brew up a pot of Buona Caffe Artisan Roasted Coffee ($12.99), available in a range of refreshing blends.
True to Type
Post-industrial mechanics meets high-tech convenience in independent inventor Jack Zylkin's USB Typewriter. This isn't some newfangled replica, either. Zylkin uses real Underwood typewriters, removes the guts, and replaces the insides with hardware compatible with USB-ready devices like PCs, Macs, and iPads. The authentic keys also get a mini update to adhere to Qwerty standards with the addition ctrl, alt, esc, and arrow functions. Due to the reclaimed nature of this product, each typewriter will vary slightly. Proudly made in Philadelphia. ($799; uncommongoods.com)
Cover Art
Add a splash of sophistication to tablet computers with Literary Art iPad Cases, hardcover protectors designed with iconic cover artwork from the first editions of classical fiction novels. Unlike other iPad covers, these cases have the look and feel of a real book, a result of being manufactured by a bookbinder that's been cranking out tomes for more than 100 years. Styles include The Great Gatsby, A Clockwork Orange, and Pride and Prejudice. Made in the USA. ($50; gifts.com)
Power Up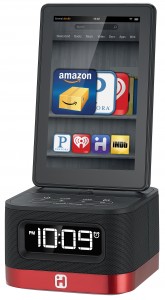 Kindle Fire fans will light up with elation when they unwrap the iK50 Space Saver FM Stereo Alarm Clock/Charger from iHome. Fill the Kindle Fire with juice while you catch your Zs then awake to your favorite radio station to start the day. Reson8 speaker chambers and EXB bass enhance iK50's sound quality, and the device works with the iHome Sleep app, which allows users to wake and sleep to their favorite music or custom alarms. Micro USB charging cable and stereo audio cable are included. ($79.99; ihomeaudio.com)