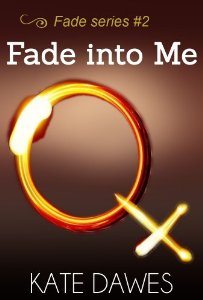 Kate Dawes "didn't spend a penny marketing [Fade]." She "tweeted it and posted it on Facebook groups that cater to readers who love [the] genre, and sales started to pick up."
Dawes is now The New York Times and USA Today bestselling author of the Fade series. She is also on the IndieReader bestseller list. Dawes lives in the Southeast and is currently working on her next romantic collection.
LK: What does being a bestselling author mean to you? Do you have a responsibility to your audience to deliver another bestseller?
KD: I'm not yet sure what it means. It's still sinking in, actually. At this point, I just know it's an honor, an incredible thrill, and of course a great motivator to write the next book. I absolutely have a responsibility to readers, not so much to deliver a bestseller, but just to offer them the best book I can come up with. I feel that if I deliver a book that isn't better than the Fade series, I'll have regressed as a writer, no matter how many sales it makes.
LK: Do you ever see yourself taking on a contract with a traditional publisher?
KD: Yes. After the "Fade" series starting seeing some success I had the opportunity to speak with a number of agents, and I signed with one about three weeks ago. I can't say much more than that at this time, as discussions with publishers are still in the very early stages.
LK: Do you feel that self-publishing has become a novelty for traditional publishers?
KD: Being so new to this, I'm still trying to figure out where all of this is going for any of us, indie or traditional. I do know this—very simply, things have changed and from my experience so far it seems that everyone is still trying to make sense of where publishing is now and where it's going. I find it kind of exciting to be a writer at this time primarily because of that uncertainty. It's as though any day someone can change the face of publishing. Maybe all writers and I should be scared of that, but the potential for incredible things is so great I think we should just keep writing, self-publishing, consider bigger opportunities if they come along and most of all enjoy the revolution.
LK: Is the title, "Fade" metaphorical? Do you think that both Max and Olivia, your main characters, fade into one another's lives?  In a way, do you feel their relationship is a co-dependent one?
KD: Yes, it is metaphorical. I thought the word "Fade" seemed gentler than, say, "Crash" or something like that. Like a lot of writers, I'm inspired by music and I just happened to hear Mazzy Star's "Fade Into You" in the middle of writing the first part of this series. I've since looked it up and found out that there are dozens of songs and at least two books with the same title. But it worked, so I used it, and obviously just changed it slightly for the next two titles.
LK: Are there any rules that writers should stick to when writing a book series?
KD: One thing I would definitely advise writers who are putting a serialized novel together: do yourself a favor and have all parts finished before you publish the first one. I wrote the first in the "Fade" series and published it not knowing what would happen. It wasn't long before I started getting emails, tweets, and Facebook messages asking about part two. So I wrote that and made the mistake of publishing it without having part three ready to go in a short amount of time. Big mistake. The emails, tweets and Facebook messages were more than they were between parts 1 and 2. I felt a lot of pressure to get the third one out, but I took my time and it was at least a month before it was available for readers. I wish I'd had them all finished before releasing the first one, and then maybe released the next a week later and the final one a week after that.
LK: How did you go about marketing the "Fade" series?
KD: I didn't spend a penny marketing it. I tweeted it and posted it on Facebook groups that cater to readers who love this genre, and sales started to pick up. I also have an amazingly loyal group of fans that post it themselves, or tweet it to their followers. I'm amazed at the word-of-mouth aspect of this. That's what pushed it up in the rankings. Once it started to become very highly ranked, it really took off. That was some indispensable free advertising.
LK: What does indie mean to you?
KD: Free to write what you want to write without having it approved by anyone. I mean, other than Amazon, B&N and other retailers who have a TOS you must follow. It means the only pressure you have is pressure you put on yourself.
LK: What components make up a great erotic romance?
KD: For me, it's just like any other good story. Conflict drives a story. Internal conflict makes a character interesting. External conflicts between two or more characters make a story worth telling. As for the romance aspect specifically, I'm starting to like the more subtle transitions from lust to love. I mean, in terms of a character's feelings for another character, and the seemingly little moments that advance a character's feelings that turn out to be big turning points in the story. Nothing subtle about the sex, though…
LK: What books or authors inspired you to write "Fade"?
KD: I've read romance and erotic romance for years. Some of my favorite books are the ones that contain three or four novellas by different authors. I like the ones that are more edgy and explicit. Perhaps it's just a coincidence, but Lori Foster's name seems to be on the cover of all of those co-authored books that I have on my bookshelf. She and so many other great writers have created stories that I just love and they continue to inspire me. One of my favorite books contains four stories, one each by Lori Foster, Lora Leigh, Cheyenne McCray, and Heidi Betts. Lori Foster's "Luring Lucy" and Lora Leigh's "Cooper's Fall" are two of the best novellas I've read in this genre. I'm also a big fan of Victoria Dahl and Rachel Gibson—somewhat different than the ones I just mentioned, but I enjoy them a lot. And like everyone else on the planet (or so it seems) I read "50 Shades of Grey". I read a couple of other erotic romances that often get compared to "50 Shades", but I found them hard to finish because the characters were too dark, and I'd had enough of that after EL James's masterful creation, Christian Grey. (By the way, that's not a knock on those authors. I have enormous respect for all writers, and the ones I am thinking of have sold tons more books than I have. It's just a statement of personal preference.) That's why I wrote Max a little lighter, with more of a sense of humor (or so I think), though he still has his troubles. After all, without conflict, there's no character or story to be told.
LK: Do you think that erotica and romance novels depict love as ideal? Why?
KD: They are primarily fantasy, so I guess it's an ideal. I suppose that's what's so appealing about this genre. People are either holding on to hope that someday that ideal love will enter their lives, or they've already found it and enjoy reading about it happening to others.
LK: Talk about your writing process and craft when it comes to writing romance?
KD: My writing process always begins with my favorite pen and a spiral notebook. For whatever reason, I'm better at jotting down ideas in longhand. Eventually the notebook is filled with character ideas and traits, plot points, settings, random scenes, hit and miss lines of dialogue, etc. If someone were to find this notebook, they would have no idea what any of it meant. Seriously. It's a mess. But it all makes sense to me. The next step is creating a loose outline. Then—and this is the hardest part—I work on the opening page or two. Once I get rolling, I try to stick to that loose outline of the plot, but it veers sometimes and I have to make minor changes to it as I go. But I definitely let the characters lead the way. I used to hear writers say that their characters take on a life of their own and they start talking to the author. I of course thought this sounded like madness when I first heard it. Now I know exactly how true it is. I'm just glad I can hear them. The final step is going over it again and again to make sure it's right. Which isn't to say it's perfect; it's just a matter of it being how I want it. Then I release it and it belongs to the readers—theirs to love or hate or even just not care about one way or the other. I have no control over that so every opinion of every person who reads it is valid, in my view.
LK: What's next for Kate Dawes?
KD: I'm working on a new novel, and I'm in the "notebook phase" I mentioned a moment ago. New characters, whole new plotline, and I plan to try something new with this one. We'll see if it works. I hesitate to mention the working title or anything else about it, for the sole reason that I seem to work better if I keep it to myself until I'm well into it. If I talk about it too much with others, I seem to lose ownership of it. I'm not quite sure what that's all about, but that's just how I am.
https://indiereader.com/wp-content/uploads/2012/11/fade-into-me1.jpg
300
203
Loren Kleinman
https://indiereader.com/wp-content/uploads/2016/12/ir-logo-2017.png
Loren Kleinman
2012-11-30 08:37:28
2012-12-03 11:41:09
The Thrill of Fading