Chances are: she cooks the turkey, brings home the bacon, cleans the house and negotiates a cease fire between Israel and Hamas (way to go, Hillary!).
Frankly, women that special deserve something better on their iPads than just the latest James Patterson.
IndieReader is here to help.  After all, what could be better than a stack of indie books for the holidays (well, maybe a 10-day, all-expense paid trip to Paris, but that's another gift guide).
Spending the Holidays with People I Want to Punch in the Throat is a hilarious collection of essays by Jen Mann-Li, the woman who brings you People I Want to Punch In The Throat.com. It's the antidote to all those annoying holiday have-to-dos that have somehow morphed into non-negotiable traditions.  Jen's essays have a knack for voicing what many are secretly thinking, while her "good enough, half assed" approach to holiday expectations is refreshing—and hilarious—in a world of overachieving, self-congratulatory super moms (you know who you are).  We especially love the lecherous Kris Kringle in "Hey Santa, Keep Your Yuletide Log to Yourself" and the stomach-turning child protégés in "Annual Christmas Letters: Art of The Humble Brag".
Down to You by M. Leighton, the "scorching tale of one girl and two brothers in a love triangle that's not", is for the mom who enjoys herself some hot romance.
It is also an IndieReader, New York Times and USA Today best seller that involves a girl working her way through college and—you gotta love this—twin brothers Cash and Nash Davenport.
"Both brothers make her heart tremble. Both brothers set her body on fire. She wants them both. And they want her."  Doesn't get much better than this.
One of the greatest things about indie books is the ability to create something that is uniquely the artist's, and of course, potentially yours. And nowhere is that more the case than in the work of Erica Ekrem, whose small book arts and graphic design studio, Odelae, is a  located on Orcas Island off the coast of Washington State.
Odelae journals are born from the faded and timeworn materials that have survived from the early 1900s. Inspiration is discovered in old chests and bookstore salvage boxes. No longer valued or falling apart, Odelae reclaims what is remaining and revives it.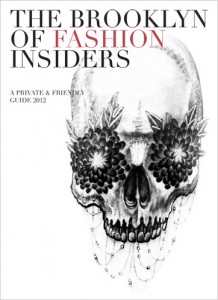 After the fashion community embraced her "private and friendly" guides to Paris and Manhattan, Carole Sabas, a reporter in French Vogue's New York bureau, set her sights on Brooklyn. "A borough that people like Kate Young, Freja Beha and Sophie Theallet all call home can't be wrong, fashionably speaking, so I had to check it out for myself,"
The Brooklyn of Fashion Insiders, compiled by Sabas and her collective of stylish tipsters/borough residents — Maria Cornejo, Arizona Muse and T's online editor, Jane Herman — is a portable handbook that celebrates and explores Kings County businesses and their cool, laid-back attitudes. "Even the celebrity tattoo artists are friendly," Sabas says. (The guide's cover art was created by Marc Jacobs's inker of choice, Scott Campbell, who works in Williamsburg.)
Ketchup is a Vegetable and Other Lies Moms Tell by blogger Robin O'Bryant is a laugh-out-loud tale of motherhood.
Writer and mom of three, (born within the same four years!) O'Bryant addresses some very real and often hilarious topics such as breastfeeding behind your back, how to talk to your daughters about man parts, and how to write a good fish obituary. Nuff said.
Winner of the 2012 IndieReader Discovery Awards, Whole Latte Life, the polished debut novel by Joanne Demaio, is a satisfying exploration about the ruptured friendship between two middle-aged moms from Connecticut on a girls' weekend in New York City (they normally meet at Whole Latte Life, their hometown coffee shop).
The prose is fluid, the characters are fully developed and there's plenty to keep readers guessing until the very last pages. Demaio has penned a heartfelt portrait of two friends at the crossroads of their lives.
Stuff : The M (Group) Interactive Guide to Collecting, Decorating With, and Learning About, Wonderful and Unusual Things is the book equivalent of a macaroon, featuring the brilliant, bold designs, and intriguing collections in the beautiful interiors of author Carey Maloney, his partner, architect Hermes Mallea.
This one-of-a-kind interactive omnibus invites the reader inside the wonderfully diverse homes of impassioned collectors, detailing the wide variety of art and objects that go into the creation of M(Group)'s complex, richly layered, and beautifully orchestrated interiors.
Stay tuned next week when we'll be suggesting  indie
https://indiereader.com/wp-content/uploads/2012/11/gg-6.jpg
540
960
Keri English
https://indiereader.com/wp-content/uploads/2016/12/ir-logo-2017.png
Keri English
2012-11-22 08:34:25
2012-11-26 07:37:16
Seven Gifts Fo Yo Mama