No Easy Day: The Firsthand Account of the Mission That Killed Osama Bin Laden is a firsthand account by a Mark Owen, a member of the now-legendary Navy SEAL Team SIX.
It doesn't get more real or more in your face and it doesn't get to take down the longtime #1 New York Times best seller 50 Shades of Grey without being simply amazing. From Amazon: "No Easy Day puts readers alongside Owen and the other handpicked members of the twenty-four-man team as they train for the biggest mission of their lives. The blow-by-blow narrative of the assault, beginning with the helicopter crash that could have ended Owen's life straight through to the radio call confirming Bin Laden's death, is an essential piece of modern history." What more can we say?
If you loved Mark Owen and Kevin Maurer's No Easy Day, try these rollicking indies on your next reading mission:
From journalist Chris Martin comes Shaping the World from the Shadows: The (Open) Secret History of Delta Force, Post-9/11. This is an account of the Army's Delta Force essential contribution to the war on terror. Not only do the secrets run deep, the story is told from an investigative journalism standpoint.
The reviews speak for themselves on this one. "Chris Martin has written an astonishing account of special operations activities around the globe. Someone at the Pentagon should check for any missing keys…" – D.B. Grady, co-author of The Command: Deep Inside the President's Secret Army.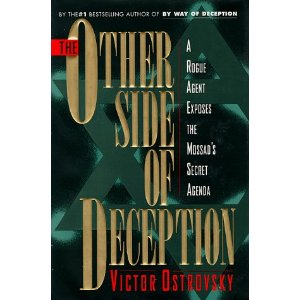 The Other Side of Deception by Victor Ostrovsky provides a look into The Mossad, Israel's intelligence operation. Rather than contemplating who is right and who is wrong, you may finish this one wondering if anyone sane is still alive.
Former Israeli Armed Forces Colonel Ostrovsky joined Mossad and was fired after a fight in Cyprus, in which he contends he was forced to take the fall for his incompetent superiors. In the Israeli Defense Forces, there may have been a proper hearing. But The Mossad, has its own law. Intrigued? Ostrovsky also has another stunner; By Way of Deception which hit #1 on the Times list.
In On the Hunt in Baghdad, award-winning foreign correspondent Michael J. Totten from Iraq, is immersed with a unit of American soldiers as they hunt the elusive terrorist commander Haji Jawad—who wore a suicide vest wherever he went.
Totten and forces are on the hunt, in Baghdad, in the middle of a pitch black night. Got chills yet? Download this puppy and put on a sweater. Liked this one? Check out Totten's In the Wake of the Surge, and experience Kurds, Arabs, and Americans in Iraq during one of the most violent and wrenching periods in that country's history. Totten visited Iraq seven times between 2005 and 2009, as a journalist without a gun in the Kurdish autonomous region, and then as an embedded reporter with the U.S. Army and Marine Corps in Baghdad, Sadr City, Ramadi, and Fallujah. One more suggestion: In the Land of the Brother Leader is Totten's account of Lybia, Moammar Qaddafi and a nation on the verge.
John Podlaski's Cherries takes us to Vietnam where eighteen year old John "Pollack" Kowalski lands in the Wolfhounds of the 25th infantry division.
In a journey of self-discovery, and myriad emotion, Kowalski learns as much about himself as he does about the hell he has just landed in. We follow Kowalski to the 101st airborne division and run the gamut of laughter, loss and everything else that a brand new soldier is completely unready for. Refreshingly honest and a change from current events if that's what you happen to be searching for.
The author was drafted in 1970 after dropping out of school and served in both the divisions he writes about, earning a number of medals during his courageous journey, including the Combat Infantry Badge, Bronze Star, two Air Medals, and the Vietnamese Cross of Gallantry.
Bruce H. Norton's Stingray: Force Recon Marines behind the Lines in Vietnam is an account of the Stingray Patrol; small teams of seven to ten Marines that were dropped by chopper into the heart of enemy territory. Surrounded on all sides, the teams brought death and destruction to the enemy without ever going head-to-head in a gunfight with them. Sounds like an ideal way to fight if you want to preserve your life…can we put this one down once we start?
When the Bullet Hits Your Funny Bone: the Essence of a U.S. Navy SEAL by Billy Allmon, is the author's account of why it is (life or death) necessary to find some kind of humor in the life that a SEAL must lead. These are true stories of how Allmon and his fellow SEALS survived brutal training, grueling experiences and forged a brotherhood like no other. How do these elite warriors do it?
Well, learning to use humor to heal some of the emotional terrors is a bizarre but useful start. My father (a former SEAL) actually had quite a warped sense of humor and this book makes a bit more sense of that.
You Want Me to Do What? by Jeff Kraus; the only man to succeed at all three elite US Military Special Operations qualifications schools. His book is an inside scoop on what really happens at Army Special Forces, Navy SEAL and Army Ranger Training.
Of course there are the terrible trials of proving your worth and the label of supermen that follows these elite soldiers is no joke. Kraus also looks at the humor he found in the insanity of his own experience and allows the reader to see some absurdity while maintaining excellence. Not an easy task.
If you loved No Easy Day, check out these ten terrific tales and see why there is never a shortage of war stories, most of which can reach your Kindle at the speed of fire. Don't forget your gear, you know, canteen, trekking boots, MREs…for that long walk to the place where nobody bothers you as you read.