Self-publishing a children's book isn't kids' business. It takes a great story, great illustrations, and the gumption to do a little (or even a lot) of marketing and promotion. Fortunately, there are talented, creative people worldwide who do it and we're lucky that a lot of them come to Blurb.
We've rounded up a few of our favorites, so grab some milk and cookies, take your laptop to your favorite reading chair (don't forget the sun screen!) and enjoy.
Sarah No Doubt by Wade and Bayo/w Wegs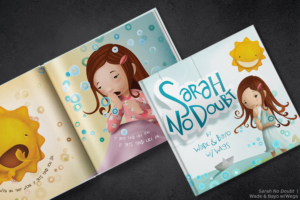 A quizzical character named Sarah wants to know where the sun goes when the moon goes out. Her query leads her hither and thither. We don't want to spoil the ending, so let's just say, she eventually drifts to sleep with another question on her mind: How deep is the dirt?
That, as you might guess, is a terrific segue-way into a series and that's exactly what the two authors, both creatives working at an ad agency, have in mind. Their goal is to create a "Sarah No Doubt" series to help young girls engage in science and we can't wait to dig into the next installment.
Graycie's Catch by Anne Kubitsky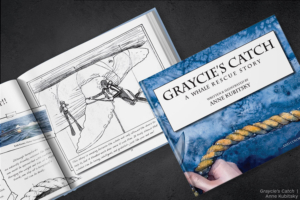 Based on a true whale rescue story, "Graycie's Catch" is a gorgeously illustrated tale with an interesting marketing twist. The author, who has a background in illustration and marine biology, released the book with some of the illustrations printed in full color and others as line drawings. The idea is that the book is part coloring book, and the author's hope is that sales of this edition of the book will help fund the time she needs to take to complete all the illustrations in full color.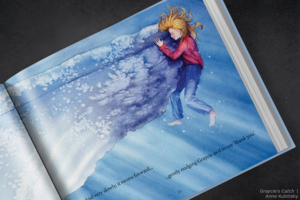 Kubitsky also ran a successful Kickstarter campaign to fund an exhibit whose focus on doing good and being grateful is linked, in part, to the book. Take a look and watch her trailer in which "Graycie's Catch" plays a starring role. You can also read more about the book on the Blurb blog where it was featured as a Book of the Week.
Monsieur Garlic and the Lost Beret by Josephine Philpott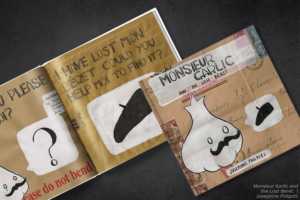 How can we not be utterly charmed by a book whose main character is a clump of garlic in search of his lost beret? Quirky, cute, and designed with recycled envelopes as the illustration backgrounds, this endearing book is a terrific mix of a sweet story and simple artistry. We even smiled when Professor Broccoli delivered a little moral lesson at the end. Oh yeah, and did we mention that Monsieur Garlic has a French accent? Très charming, indeed.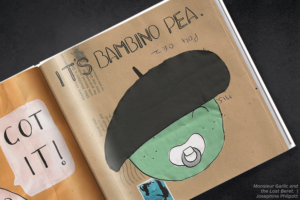 To see more Blurb books or learn about publishing your children's book with Blurb, visit www. Blurb.com
https://indiereader.com/wp-content/uploads/2012/08/Blurb-wade-and-bayo-11.jpg
600
900
Guest Author
https://indiereader.com/wp-content/uploads/2016/12/ir-logo-2017.png
Guest Author
2012-08-07 08:54:22
2012-08-07 08:54:22
Tales of Heroism and Talking Garlic