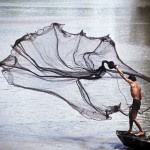 When I started freelancing full time three years ago, I had zero clients.
My goal was to build a copywriting and creative consulting company, and that's not easy in New York City (to be fair, it's not easy anywhere but it's especially hard in this market full of creatives). Luckily, one of my areas of expertise – and why I'm able to continue to freelance full time and thrive in NYC – is my resourcefulness. I built a client base with virtually no capital by casting a wide net to find those clients who needed my services.
Some of my methods were time consuming and painstaking while others happened organically. All of them, however, were equally important in finding the right clients – and not a single one cost any money. Take a look at five ways I found clients and then let me know ways you find yours.
1. Use Craigslist Religiously
I've been a fan of Craigslist for many years – to sell old furniture, buy event tickets, and to find useful freebies – but I never thought about using Craigslist for business until I had one of my own. Craigslist can be particularly helpful because there are two ways that you can find clients. The first is to post ads about the services you have to offer so that people who require your skills can identify and contact you. On the flip side, I also browse the gigs section to find people and organizations that are actively seeking someone with my skills. Both methods are totally free. There is a downside to Craigslist, though, that can reduce your impact on the marketplace. Craigslist only allows each account to post ads with the same content once every 48 hours, which can be devastating to your business if your ad is pushed down by other ads too soon. To combat this problem, I've registered three different e-mails address so I can post on a daily basis or sometimes even twice daily to maximize my ads' effectiveness.
2. Visit an Array of Job Boards
If I have time in my schedule to take on a new project, I often head to a job board to see what's available and throw my hat into the ring. In the freelance writing world, there are several valuable resources, including FreelanceWriting, Simply Hired, JournalismJobs.com, and All Freelance Writing that you can use to help find that next paying job.
3. Work Hard for Referrals
They say it's all in who you know – and that's an idiom to remember as a freelancer. Your clients have the capacity to help you beyond paying for the work you've provided to them so make it a habit to always give 110% so your clients are keen to recommend you when one of their contacts is looking for someone with your skills.
I had a client once who was connected to DKNY. When the brand was looking for a copywriter, my client recommended me and I was hired. This contract was particularly important to my career because it was my first major brand project since starting my business. Having DKNY samples in my portfolio gave me immediate credibility and made my work more visible, which helped attract higher-profile clients.
Another way to get referrals is to be the one who refers. So many of my friends and colleagues come to me when they're looking for service providers because they know that I'm fairly well connected and that my judgment is sound. When someone does a good job by me, I'm the first person to sing their praises; the more I scratch their back, the more they'll scratch mine.
4. Engage in Networking Activities
I love networking events because I enjoy getting to know people outside the office setting. People are more relaxed after hours – and with cocktails in their hands – so I find these situations much more comfortable that all that seriousness that fills a conference room. A word of advice about networking though: Don't go to networking events that don't have anything to do with you. I used to go to a lot of organized professional gatherings, but I soon found that many of them were a waste of my time because the attendees had no use for my expertise. Now I only attend the events where I know people are looking for me and vice versa.
5. Add Services to Expand Your Market
A little more than a year ago, someone responded to my copywriting ad on Craigslist seeking PR services. I told the guy that I didn't have any experience in PR, but that I was willing to give it a shot on a pay-per-placement basis – that is, he didn't have to pay for anything unless I got the product positive press. As it turns out, I have a knack for public relations. In the first five months, I got the product into local and national print magazines, on highly ranked online destinations, and on national television. With the confidence that came from the early success, I started marketing my pay-per-placement PR services on, where else, Craigslist. Today, about half of my clients are those who have engaged me for PR services. Revenue has increased by about 40% overall.
The message I want to convey with that anecdote is that you shouldn't be afraid of expanding your repertoire. If you want add more services, go for it. When you're worth your salt, people will pay for it.