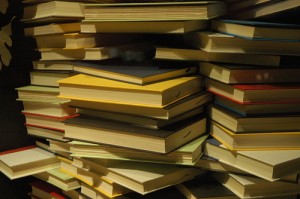 As I sit lazily in the collective yards of friends and family this Memorial Day weekend, I'm thinking about how much I've read in these first five months of the year. Drifting on a cloud of unsweetened iced teas and kabobs on the grill, I'm struck by the variety of my shelf. Beginning the year with a shiny new Nook Color to devour titles on, I've had a rainbow of flavors that have satisfied a varietal palette indeed.
Most recently, I've finished One Blood and Blood Harvest. Common theme does not escape me. Two very different books, One Blood deals with Voodoo, a familial curse, prison, spirits, and all sorts of flashbacks that keep the reader enthralled for 400 pages. Author, Qwantu Amaru does not disappoint—I was hooked on this one till the wee hours for a week. Blood Harvest has to do with just that: an attempted harvest of blood (vampire blood of course!) which causes chaos in society and a rift between Vampires and humans; particularly those humans working at a sinister pharmaceutical lab. What follows can only be described as a fight to the finish determined by natural and unnatural selection.
Previous to these two books of blood, I devoured The Parachutist's Daughter for some anti-Nazi retaliation and A Soul to Steal for a cross between Celtic legend and Sleepy Hollow. Before that it was The Vanishers whose flowery jacket called to me from the stacks of my local favorite Montclair Booksellers and Fast Times in Palestine, which I read for reviewing purposes and decided to add to my "very impressed by this hidden gem I would not have otherwise discovered" list. Had I not seen the bright pink book jacket, or had I not gotten Palestine by recommendation, I may have missed a grand psychic adventure or a gutsy work of memoir turned journalism.
Before this I was, along with much of the female reading public,  ensconced in the Fifty Shades Trilogy and charmed by The Mill River Recluse, delighted by the short and snarky Campaign Promises and taken away to Jennifer's Garden in search of The Unsimple Truth. As the mild winter gave way to a temperate spring, I was blown away by Paint Stop Boom and grabbed a treasured Spoonful of life in gentrified Chicago. With almost all of these being indies (even Fifty Shades began as one) I see where my heart lies and am thrilled to see that variety is still the spice of my bookshelf!
I never was one for romance other than having read a random paperback left in a vacation rental one summer. Its title escapes me completely but I recall a bare-chested man with flowing locks on the cover. When I read Season of the Shadows, I thought back to that airbrushed hunk fondly. Shadows may have been the first romantic tale I'd chosen to pick up in a while, but it was also a reminder that some steamy scenes set in the plantation south are just what one needs to get away from work for a while.
Always a fan of supernatural stories and horrific renderings, I was not quite surprised to note the extensive clump of titles in this genre that I've read this year. However, a new area of the creepy that I have enjoyed anew is Paranormal Romance. The Seventh Soul reminded me that there is not only a possibility of another world, but (and why not?) romance can live there as well. Why should we be choosy and not include clairvoyants and mediums in our "looking for" section of…well you get the idea.
Chick Lit has been on the back burner for me for a while; until now. Thrilled by Following My Toes, I moved on to Starring in the Movie of My Life and was excited to see the genre has some fresh and witty material pouring forth. In both of these titles, I felt a connection with the female lead. Perhaps that just means my life would make a good Chick Lit title, but whatever the case I'll take it!
While simultaneously being seduced by all three Fifty Shades titles, I found diversity in Why Me? And The Stovepipe, two amazing feats of overcoming adversity in foster care and surviving abuse. Not since reading The Glass Castle have I really been able to feel what the young character is going through: utter torment. Admittedly being a lifelong fan of memoir, these titles top my list of ones not to miss. If you liked Glass Castle, read these!
With all of the variety that has rested on my shelf in the first half of 2012, I am excited to look to the future for even more adventures in the diverse, the obscure, and always the unexpected. If you happen to have suggestions that go along with any or all of these areas, I'd love to hear them!