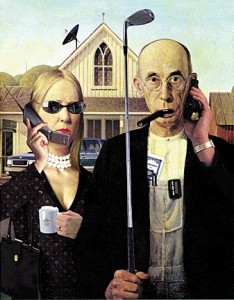 by Mikey Rox
If you're a city-living freelancer you've probably heard about a new craze called coworking. The concept is simple: If working from home isn't an ideal situation, you can use a shared office space where you'll work independently. Members of these co-working communities are almost all entrepreneurs, although independent contractors and full-time employees who travel frequently use these spaces, too.
Unlike working from home, you're required to pay for use of the coworking space. At many establishments, community members can pay by the day or by the month. Recently I purchased a membership to New Work City, one of the more well-known coworking environments in Manhattan, for which I pay $300 per month. This fee provides me with Monday to Friday access to the space; WIFI, copies, and coffee; a key to come and go as I please; and a fridge in which to put my lunch.
But those are just the surface perks. There are several other benefits to coworking that make this experience worthwhile. Here are five that more than validate the chunk of change it costs to be part of the coworking movement.
1. Networking Opportunities
When people hear about the coworking concept, a lot of times they'll ask, 'Why not go to a coffee shop or library?' I understand why those options may seem better than coworking in terms of cost – they're free to use – but the biggest appeal of a coworking space is that you're in the same working environment as many other entrepreneurs, from writers and Web designers to tech gurus and inventors. These people are the movers and shakers of their industries – and they're exactly the kind of people you want to know. Plus, it's not always acceptable to walk up to someone in a coffee shop or library and start talking business. In the coworking, environment, however, it's not only acceptable but also encouraged. The community members are all there for the same reason – to get work done and meet like-minded individuals who may present interesting opportunities, references, or resources that help boost your bottom line.
2. Professional Resources
At New Work City, members are allowed to host professional events within the space and promote their events on a dedicated Wiki page that only other members can access. These resources are an excellent way to further integrate yourself into the community and meet other coworkers with whom you may not cross paths. The organization itself also offers classes to members (some of the most recent topics include "Getting Started With WordPress" and "Think Like a Programmer") that bring coworkers together to collaborate and enhance their skills.
3. Enhanced Credibility
When I first launched my business from home, I was weary of using my residential address because I didn't want my big-name clients like DKNY thinking that I worked in my underwear all day; that's not the image I wanted to present. I found a way around that by changing the word apartment to suite on my business cards, but even that didn't make my Harlem address one that people knew and respected. Yes, there are addresses that people respect. Take 1515 Broadway in New York City, for instance. That's the same building in which MTV has its studio, among other major brands. Before settling on New Work City, I considered a shared office in that building for a very reasonable monthly rate. Included in the fee for that space was a phone number that a dedicated secretary answered and routed to me, the option to have my business mail sent to my swanky new office address, and conference room space that I could rent on an as-needed basis. All of these extras lend even more credibility to a start-up by giving potential clients the perception that you're a bigger deal than they might've thought initially.
4. Tax-Deductible Office Space
One of the best parts of working from home is that you can use your home-office space as a tax deduction. If you're not doing that, you should be. Same goes for the coworking space. As entrepreneurs and small business owners, you need to stretch your budget and save wherever you can.
5. Fewer Distractions
I'm disciplined in the sense that I don't ever turn on the TV or get caught up doing something that isn't productive, but I can't say that I don't get distracted at all while I'm working from home. On many occasions, I've found myself doing laundry or washing the dishes or cleaning the bathroom in the middle of the day because I have guests arriving in the evening. These tasks are productive because I'm still getting something done that needs to be done, but it takes time away from my clients' projects, causing me to work later into the evening. At the coworking space, all of those distractions stay where they belong – at home! Now I can focus on my clients and only my clients and that has helped me move through items on my to-do list faster. So much faster, in fact, that I'm actually working a couple days in advance – a feat that I could rarely accomplish when I was playing the role of entrepreneur and housekeeper during regular business hours.
*******************************************************************************
Mikey Rox is an award-winning journalist/blogger and the founder of Paper Rox Scissors, a small business for other small businesses, that specializes in marketing and advertising copy and public relations. His work has appeared in more than 100 regional, national, and international print and online publications, including CNN.com, Money Crashers, Wise Bread, MSN, The Advocate, The Baltimore Sun, and The Examiner newspapers, among many others. Mikey currently lives in New York City with his husband and their two dogs.
**********************************************************************************
Time for you to weigh in. Do you have experience with coworking environments? Did you find it helpful? Do you have tips for other freelancers/entrepreneurs who may be considering a coworking situation? Let me know in the comments below.