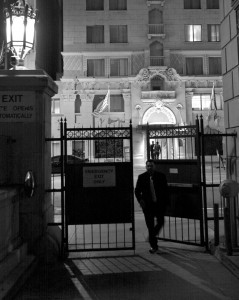 IndieReader recently asked indie author John Locke some questions about how things were going with his unprecedented deal with Simon & Schuster (details to follow).  Being the very nice man that he is, he agreed to answer them.
Just in case you're unfamiliar with John and his books, a bit of background:
* New York Times best-selling author
* 8th member of the KINDLE MILLION SALES CLUB, following Stieg Larsson, James Patterson, Nora Roberts, Charlaine Harris, Lee Child, Suzanne Collins and Michael Connelly
* First self-published author to hit Kindle Million Sales Club
* First self-published author to hit #1 on Amazon/Kindle
* Sold 1,100,000 eBooks in 5 months by word of mouth
* Has had four of the top 10 eBooks on Amazon/Kindle at the same time, including #1 and #2; has also had six of the top 20, and eight of the top 43…at the same time!
* Every eBook John Locke has written and published has become a best-seller (find his latest, Bad Doctor, on IR's best seller list)

Amy Edelman: Thanks John, for taking time out of your busy schedule to answer a few questions for us.  First up, can you give IR's readers a short synopsis of the details of your arrangement with S&S?
John Locke: I published my books, Wish List and Saving Rachel in mass market paperback under my imprint, John Locke Books, and paid Simon & Schuster a fee to distribute the books into stores and retail outlets. S&S also helped me with warehousing, shipping, collecting, reporting, and gave me valuable advice along the way.
AHE: Now that you have some first hand experience, can you tell us what do you think is the biggest problem(s) facing indies should they be able to get their books in-store?
JL: Customer recognition and product placement.
AHE: There are many indie authors (most notably, you) who are selling many thousands of books online. It would seem like this could be a great source of income for struggling bookstores, both indies and B&N. What do you think is the glitch?
JL: At present, there are two types of book buyers: those who buy online and those who buy from bricks-and-mortar establishments. eBook buyers know indie authors because Kindle gives us the opportunity to be seen. But Wal-Mart book buyers have to rely on traditional media, such as TV talk shows, newspaper and magazine articles and reviews. Since these forms of media won't recognize or promote books written by indie authors, the bricks and mortar crowd doesn't know who we are. Bookstore shelf space is limited. It makes sense for retailers to display books written by authors who are familiar to their customers.
AHE: Can you explain why traditional (print) media refuses to cover and/or review indie books?
JL: For one thing, there's a natural bias by reporters and editors that indie books don't measure up. For another, I've been told (unofficially) that if newspapers review one indie book it would open the floodgates. "Next thing you know, a million indies will call, demanding us to review their books!" Also, traditional publishers' ads are a huge source of revenue for print media, and traditional authors are a staple for TV talk show interviews. Where traditional media is concerned, indies and traditional authors are adversaries. To put it another way, if you've got a popular blog, and Coke pays you a million a year to advertise on it, would you post a positive story about a wonderful new Pepsi product?
AHE: There was a time when The New York Times wouldn't even include an indie book on their bestseller list. What do you think happened to change that?
It became clear to most people in the industry that a number of indies were outselling the s0-called best-sellers. If your newspaper or magazine is known for printing accurate stories, shouldn't your best seller list be accurate as well? I think these publications were forced to print accurate best-seller lists because doing otherwise might hurt their credibility in other areas.
AHE: While discussing the success of the self-pubbed 50 Shades of Grey you said, "We're still living in a world where self-published books aren't allowed to be discussed in polite society until the gatekeepers buy the rights." Can you explain that further?
JL: E.L. James has done a fantastic job! She's dominating the charts, and will likely break some of the all-time publishing records. My comment referred to the subject of this interview, the hesitancy of TV and print media to publicize or review indie books. Ms. James self-published her book in May, 2011, and worked her way up the charts utilizing the indie author's best friends: social media and word of mouth. But was she interviewed on TV? Were her books discussed by talk show hosts or reviewed by newspapers and magazines? Not to my knowledge. But in March, 2012, public awareness of 50 Shades exploded! Within days you couldn't turn on the TV or open a newspaper without hearing about E.L. or her books. They were mentioned and discussed on every TV talk show, in every newspaper and magazine you can name. Six weeks after Random House purchased the rights to her books, E.L. James was named one of Time Magazine's 100 Most Influential People in the World! Would all this have happened if 50 Shades had remained an indie book? I like to think so, but my gut tells me no.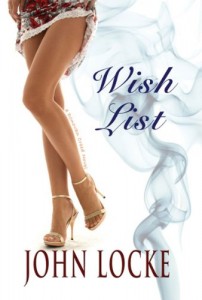 AHE: You also said that your goal, "is not to lead a charge in the 'us against them' war, but rather to build a bridge between Indie and Trad publishing." You very eloquently added that you don't think that's happened with your deal with S&S ("I thought I was doing it with my distribution deal, but I was naive. There was a toll booth on that bridge."). Can you think of another way in which it might work?
JL: Before entering into my distribution deal with Simon & Schuster, I knew that TV and print media was the exclusive domain of traditionally-published authors. I knew as an indie author it was unlikely I would ever be interviewed on TV, or have my paperback, Wish List, reviewed in print media. So I knew there was an exclusive club. But I thought my distribution deal made me a member, or at the very least, an honorary member. Boy, was I wrong! I hired a publicist and offered myself up…and quickly learned I was not part of the club! Not one media outlet would talk to me or review my book.  Even the little papers in the towns where I grew up and went to high school and college refused to do a story on me!
AHE: You've said many times you are very grateful for the doors that have been opened to you by Kindle, Nook, and the other electronic platforms, and that you are not personally upset about the state of the industry. You believe traditional publishers and indies can work together, but have said that "despite the enormous progress indies have made, we're still being cock-blocked by traditional media!" What will it take to change that?
JL: My deal with Simon & Schuster proved indies and traditional publishers can work together in a mutually-beneficial relationship. Now all we've got to do is find a way to get traditional media on board, so retail buyers will know who these upstart indie authors are! The TV audiences, newspaper and magazine readers, and retail buyers would have loved E.L. James just as much—possibly even more—had she remained indie. It seems absurd that traditional media refused to break the story until she was considered legitimate. Were her books and personal story the slightest bit different the day after she signed with Random House? Of course not! So why does the media need to be told it's okay to let her in the club? The short answer is because that's the way it's always been. But this, too, will change. In time.
We at IndieReader join you in saying…we hope so!
https://indiereader.com/wp-content/uploads/2012/05/jl-gate.jpg
1024
819
Amy Edelman
https://indiereader.com/wp-content/uploads/2016/12/ir-logo-2017.png
Amy Edelman
2012-05-08 11:28:27
2012-05-09 13:18:27
John Locke on the Big Problem (Still) Facing Indies