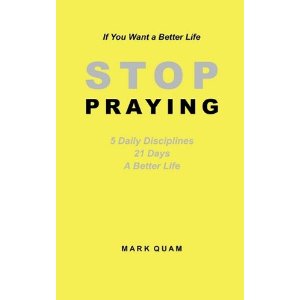 Verdict: Stop Praying is a powerful no-nonsense, mini boot camp for people who want to stop overanalyzing their options or excuses and start achieving their purpose in life.

This concise, 80-page book is a motivational quick-start guide to move you forward to a better life by giving you five disciplines to follow for 21 days.
Stop Praying is Author Mark Quam's solution for those afflicted by inertia, who "just drift through life hoping better things will come [their] way." This book is designed to promote action, rather than procrastination and passivity. Quam states that: "We grow and learn slowly. To keep growing and leaning in this slow process we need to live a life of disciplines." His system of five disciplines is designed to improve your brain, body and your life by being implemented for 21 days. Quam believes that after these 21 days, these disciplines become a part of who you are, and will help you accomplish your life purpose.
Quam's program is broken down into an easy-to-follow action plan, beginning with a quick analysis of your goals in life. Quam then defines the life-purpose as: "doing everything in your power to achieve all these things. Set your goals, go after them, reflect on how you are doing, do even more, reach your goals, write new ones and repeat until you die."
The 5 daily disciplines include the following practices:
1. Read for 30 minutes (per day)
2. Simple Fitness:
a.  pushups – push yourself to do more than you can easily do
b.  cardio – 30 minutes, three times a week
3.  Nutrition -eliminate certain foods like sugars and sodas, add small portions of recommended foods
4.  Choice awareness: be aware of your decision making in the day and make the right decision,  for example, choose not to put things off.
5 – Write in a journal for 10 minutes a day
Each of the disciplines includes brief guidelines on how to best implement these disciplines to get maximum effectiveness from them, such as tips on when to read, meal recommendations, how to increase your fitness discipline to match your improvement and what to write in your journal. There are also pages in the back of the book, which includes a pre-printed chart for 21 days of journal entries. The book also includes striking black and white photographs and motivating quotations from iconic and inspirational figures such as Peter Drucker, Katherine Hepburn and Alvin Toffler.
What some might see as the book's strength, others may see as its weakness, namely Quam's succinct writing. However, like many self-help books, this one doesn't walk you through how to combat your excuses or mollycoddle the reader. Quam is encouraging and persuasive, but Stop Praying is all about mobilizing readers into action and achieving your full potential in life: "work everyday at becoming a better you, putting in your best effort and achieving nothing less than you are built to achieve." Quam believes "your best praise is to utilize all [God] gave you and do something with it."
Reviewed by Maya Fleischmann for IndieReader 2012
https://indiereader.com/wp-content/uploads/2012/03/stop-praying-big.jpg
300
300
IR Staff
https://indiereader.com/wp-content/uploads/2016/12/ir-logo-2017.png
IR Staff
2012-03-21 15:41:38
2012-03-21 15:43:45
Stop Praying