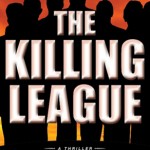 1. What is the name of the book and when was it published?
THE KILLING LEAGUE was published in early 2012.
2. What's the book's first line?
" The forest glowed in the dark, faint streams of moonlight ignited patches of steamy fog."
3. What's the book about? Give us the "pitch".
A retired FBI profiler uncovers THE KILLING LEAGUE, a competition among active serial killers to prove who is the greatest killer, and learns that he and a woman whose life he saved are the grand prize.
4. What inspired you to write the book? A particular person? An event?
I read this, which I put at the beginning of the book:  "The mass murderer wants to out compete previous killers and become the greatest murderer in history."
It made me curious – how would multiple serial killers compete with one another?  How would it work?  Those questions, and the corresponding answers, led me to THE KILLING LEAGUE.
5. What's the most distinctive thing about the main character? Who-real or fictional-would you say the character reminds you of?
The most distinctive thing about Wallace Mack is his absolute commitment to others and how this is in such stark contrast to how he often treats himself.
Mack is based on a very close friend of mine who fights bad guys for a living.
6. What's the main reason someone should really read this book?
Because it's a thriller that races like Charlie Sheen on meth, driving a stolen Ferrari down the Autobahn.
********************************
Now, for the giveaway:
If you'd like to be entered to win one of five Kindle copies of Dani Amore's best selling THE KILLING LEAGUE, simply "like" us on Facebook (IndieReader) and leave a comment on this post.
You could also share info about the giveaway via the buttons at the bottom of this post, and leave a separate comment stating that you've done so! Every share/comment counts as an extra entry!
Entries will be closed after midnight on Friday and five winners will be chosen and notified next week
Good Luck!