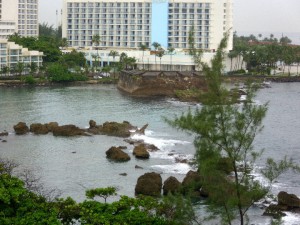 Today's Reader's Retreat is located on the beautiful island of Puerto Rico. Café Cuatro Sombras is an independently owned café with local flavor. Literally! They grow their beans on the island and they roast them on the premises. The baristas are equally hospitable and knowledgeable. Their sandwiches will make you forget whatever you were reading.
Café Cuatro Sombras ₩
259 Recinto Sur
Old San Juan
San Juan, PR 00901
(787) 724-9955
www.cuatrosombras.com
***********************************************
This Week's Reader's Choice
Clara, one of the baristas at my local Reader's Retreat Little Brown Chocolate Bakery & Coffee was aware of one of my many trips to Los Angeles (probably because I told her) to take more photos for Writer's Retreat Los Angeles.
She suggested that I visit The Cow's End Café, a local favorite. I'm very happy that I took her advice and of course it's now listed with other local favorites in my guide and is the perfect place to catch some rays and sip an iced latte.
The Cow's End Cafe
34 Washington Blvd
Venice, CA 90292
http://www.thecowsendcafe.com
Can't wait until next week? Writer's Retreat New York Edition is already available at McNally Jackson, Amazon and B&N. Other cities are available for pre-order on our Kickstarter page.
*******************************************
Know a great cafe to curl up and read (or write!) a good book?  Send the deets to Juliet at contact@julietobodo.com and we'll possibly feature in an upcoming post!  Or send us a tweet at #greatplacetoread.