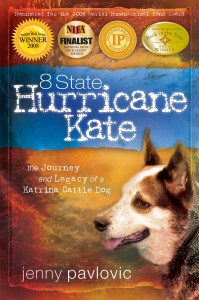 I started writing this book because I didn't want Katrina dog Kate to be forgotten. I also wanted to tell the stories of the Katrina survivors, the animals and people that Kate and I met on our journey.
Along the way, I was inspired to continue writing because I hoped the book would help me find Kate's original family. As the network grew, the book became something more, an opportunity to give something back. 50% of book profits go to the 8 State Kate Fund, providing financial relief for animals in desperate situations.
This is my first book and everything that I know about publishing a book was learned along the way. I did a lot of online research and asked for help when I needed it. At first I intended to find a publisher and began writing book proposals. But I wanted to maximize the profits for the 8 State Kate Fund and get the story out before the third anniversary of Hurricane Katrina in 2008, so I decided to create the book myself.
I registered for a community ed class about self-publishing called "Make Your Book a Reality". When the class was cancelled, I contacted the instructor, John Nemo. He walked me through the self-publishing process and later made a YouTube video to help get the word out about 8 State Hurricane Kate. Friends from the Australian Cattle Dog lists and friends I met in Louisiana caring for rescued animals after Katrina encouraged and supported me. They agreed that it was important to tell Kate's story.
Some reviewed early copies of the manuscript and Nickie Polson edited the manuscript. Eileen Lankow helped write the cover copy, Sarah Dutton wrote the Foreword, and others offered early testimonials. When the book was mostly written, John Nemo suggested that I contact professional book designer Gregory Rohm to design the interior and cover. Gregory's first idea for the front cover was almost exactly what I had envisioned! He has provided ongoing support, designing not only the book, but also the marketing materials and part of my website, which is supported/managed by Di Edwards all the way from Australia!
I'm happy with my self-publishing experience and will do it again. It was a lot of work, but a labor of love. Whenever I needed help with something, the right people appeared. Working with CreateSpace involved some early frustrations, but the service has improved. I chose them partly because they allowed me the freedom to design the book as I wished.
I've been very pleased with the quality of the books produced. It was easy to submit the manuscript and cover designs online and to set up my CreateSpace storefront. At first I was limited because CreateSpace owned the 1st edition ISBN and didn't support book contest entries. So I obtained a new ISBN and published a 2nd edition as my own publisher. Now it's available through all the usual sources-Amazon, Barnes & Noble, Ingram, and more (although more $ goes to rescue when you order via my website).
I'm excited and proud that 8 State Hurricane Kate has won the following awards: 2009 Gold Medal Independent Publisher (IPPY) Book Awards, 2009 Finalist Indie Excellence Awards, 2008 Bronze Medal ForeWord Magazine Book of the Year Awards, 2008 Nominee Dog Writers' Association of America Merial Human-Animal Bond Award and Self-Published Award, 2008 Winner Premier Book Awards. The book has opened many doors for me, including speaking engagements, new friendships, and opportunities to help more animals in need. But-I'm still left to wonder where Kate came from.