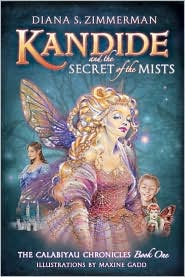 The Power of Indie Publishing
That moment when you walk in a book store and see your very first book on the shelf, or get on an airplane and someone sitting in the seat next to you is reading your book-it's an indescribable feeling. So, in a very different way, are the stacks of rejection notices you get when trying to find a main-stream publisher-especially in today's hard-hit publishing business.
Years of sending your manuscript out, months of waiting, all to get it back-for the most part unread- with a rejection notice "wishing you luck." When I first started to send "Kandide and the Secret of the Mists" out, I knew nothing about publishing. I thought I did. But I didn't. Yes, I had read all the books on how to get a publisher, meticulously followed their advice, and month after month, rejection was my reward. What I learned is that, for most of us, trying to go in the front door just doesn't work. Okay, regroup, let's try the back door. And the back door for me was to create my own publishing company, find an incredible distributor, Greenleaf Book Group, and take charge of my own destiny.
Within the year, I had "Kandide" out. No more waiting. No more frustration-or so I thought. Yes, it was printed with its nine beautiful, full-color illustrations, on amazing paper, and bound like a fine jewel-just the way I wanted it. Yes, I hired the top PR firm-or so I thought. What I got was a waste of $45K-plus. Oh, well, maybe that firm is considered to be "the best," but obviously not for my Indie published book. All I heard was excuses: "Newspapers don't want to review an Indie published book. " "Television shows won't look at an Indie published author." But I knew (or thought) traditional PR does work. So, I hired another agency-and another waste of tens of thousands of dollars. I'm a slow learner.
But eventually I got smart and started promoting my own book. My distributor, Greenleaf, got me into B&N, but I didn't know that B&N does nothing to promote independent books, and won't even sell co-op advertising to non-mainstream publishers. So, again, I took matters into my own hands. A few tips from the best book-selling newsletter in the industry, "John Kremer's Book Marketing Newsletter" (http://www.bookmarket.com) changed my entire marketing process. If anything was going to happen, it would be up to me. For Indy publishers, throwing money, even a great deal of it, against traditional book promotion, doesn't really work. Mainstream publishers control the conventional end of the business. I needed to think outside the box.
John's proven tips helped "Kandide" soar to #4 on the Amazon.com best-seller list. This fall, I will speak to over one-hundred schools. Today, my average book sales at B&N signings are sixty-plus books, with one store in Phoenix selling 256 books, and a three-hour line to buy them. "Kandide and the Secret of the Mists" has sold out of its first printing. Book Two in the Trilogy is on its way. Now, I am talking to mainstream publishers with clout, a track record, and from the inside-I'm a proven best-selling author. In the process, I also learned that the book could be better. I hired one of the top story editors for young adult fantasy books, and, although it go rave reviews before, it's even better now. Two major publishers are seriously interested, as are a couple high-powered agents.
Never, ever give up your dream. Do what is needed. Don't waste time or money trying to go traditional routes, or head on with the big boys. Create your own market. Indy publishing allows those who are willing to work at it, to create the rules-and a track record. When that happens, so does success. That's the power of Indie publishing, and the power Indie authors in an industry that is struggling to stay alive.