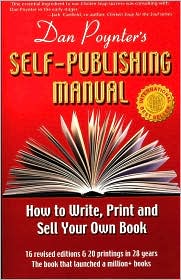 Dan Poynter fell into publishing. He spent eight years researching a labor of love. Realizing no publisher would be interested in a technical treatise on the parachute, he went directly to a printer and "self- published." The orders poured in and a new business began.
In 1973, he became interested in a new aviation sport, couldn't find a book on the subject so he sat down and wrote one. After four months of writing and intense research that took him from coast to coast, he delivered the manuscript to the printer. Sales of Hang Gliding took off like a homesick angel. He sold so many, he was able to move back to California and buy a home on a hill overlooking the ocean in Santa Barbara.
On visiting his first book fair in 1977, he suspected he was selling more books than the publishers exhibiting there. He had always considered himself part of the aviation industry. Now he discovered he was part of the publishing industry as well.
Because many publishers asked him his secret for selling so many books, he wrote The Self-Publishing Manual in 1979.
The secret is simple: write what you know and love and sell to your own industry. This was social networking: Discussing your favorite topic with your friends, writing it all down in a book and then selling it to the same people. Your colleagues become both your sources of information and buyers for your book.
Continuing to write, Dan has produced more than 125 books and revisions so far, of which some have been translated into Spanish, Japanese, Russian, British-English, Romanian and German.
Over the years, Dan has developed a system of writing that makes it all so easy and fun. His books are loaded with facts and figures and contain detailed inside information. They are always up-to-date because he revises them before going back to press. Dan has sold millions of his books, including several best sellers, for ten of millions of dollars in sales. Many of his books sell at the rate of 10-20,000 copies per year, every year.
Dan spends most of his time traveling and speaking. He averages more than 6000 miles each week and boards an aircraft every 2.5 days. In 2 1/2 years, he has circumnavigated the globe 15 times. Dan has traveled to more than 50 counties and he has even skydived into the North Pole. His books have made all of thiis travel possible.
He has written several technical books on parachutes and popular books on skydiving. When you have your own business and control your own product, you can pursue your dreams.
Dan Poynter's seminars have been featured on CNN, his books have been pictured in The Wall Street Journal, and his story has been told in U.S. News & World Report. The media comes to him because he is the leading authority on book marketing, promoting and distributing.
Dan says: I never said that writing your book would be easy. I only promise it will be worth it.