Every family has its problems. But even among the most troubled, the Plumb family stands out as spectacularly dysfunctional.
Years of simmering tensions finally reach a breaking point on an unseasonably cold afternoon in New York City as Melody, Beatrice, and Jack Plumb gather to confront their charismatic and reckless older brother, Leo, freshly released from rehab. Months earlier, an inebriated Leo got behind the wheel of a car with a nineteen-year-old waitress as his passenger. The ensuing accident has endangered the Plumbs' joint trust fund, The Nest, which they are months away from finally receiving. Meant by their deceased father to be a modest mid-life supplement, the Plumb siblings have watched The Nest's value soar along with the stock market and have been counting on the money to solve a number of self-inflicted problems.
Melody, a wife and mother in an upscale suburb, has an unwieldy mortgage and looming college tuition for her twin teenage daughters. Jack, an antiques dealer, has secretly borrowed against the beach cottage he shares with his husband, Walker, to keep his store open. And Bea, a once-promising short-story writer, just can't seem to finish her overdue novel. Can Leo rescue his siblings and, by extension, the people they love? Or will everyone need to re-imagine the futures they've envisioned? Brought together as never before, Leo, Melody, Jack, and Beatrice must grapple with old resentments, present-day truths, and the significant emotional and financial toll of the accident, as well as finally acknowledge the choices they have made in their own lives.
If you enjoyed Cynthia D'Aprix Sweeney's bestselling debut, check out these awesome indies.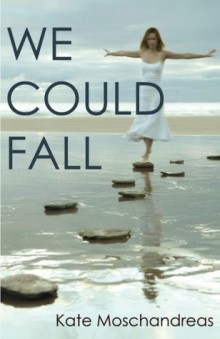 We Could Fall by Kate Moschandreas
We Could Fall is the story of one pivotal month in the life of Emmy, a 42-year old mother and married psychotherapist.  A month in which she learns that her husband doesn't want the divorce Emmy thought they'd agreed to. Meanwhile, the famous Australian actor, Duncan Grier falls in love with her. Duncan struggled with his past and has found better days since becoming Emmy's therapy client. Surprisingly, she may be in love with him too.
The book details two relationships, but also focuses on what Emmy wants for herself. She must choose very carefully how to proceed in her marriage, but in addition, Emmy examines her life and delves into choices she thinks she wants that will change her entire existence…hopefully for the better.
Unraveled by Nancy Rhea
In 1985, returning to her childhood home on the Philadelphia Main Line—a wealthy enclave of glamour and privilege– Professor Hillary Sherman wakes up the first night home to find that her usually proper mother, Dolly Scott, has been arrested for trespassing on her former estate; which is now a country club, claiming she is desperate to find a treasure trove of jewelry she buried over three decades ago. Dolly now lives in the gatehouse of the estate after her husband had run off with her money and his mistress. She is celebrating her 75th birthday and a family reunion as this all transpires.
The story reaches back to the 1950s and examines a family rife with parental neglect, love and inevitably, deaths. As we explore Dolly's life, we get a glimpse through her daughter Hillary's eyes as well, and a startling introduction to the youngest son who has been committed to a sanitarium. So where is the box of jewelry Dolly searched for? Did her former husband make off with it? The son in the institution? Read on as Hillary tries to solve the puzzle.
The Frayed Ribbon by R.W. Hart
Gail Rollins is in the hospital with a high-risk pregnancy under doctor's orders for bed rest when several car crashes cause the ER to be overrun with severely injured victims. In an effort to help, Gail befriends a lonely young girl named Lexie. Gail cares for Lexie and even calms her screams at night. They become attached, especially when Lexie's parents disappear.
In an effort to comfort the now panicked Lexie, Gail gives her a stuffed dog with a frayed ribbon to cuddle while she sleeps. Soon, though, Gail is released from the hospital—a birthday gift from her doctor. She comes back later to check on Lexie only to find the little girl gone. She tries desperately to locate Lexie but runs into privacy laws and red tape. For years, every one of Gail's birthdays act as a reminder of the girl she failed to protect. Having exhausted all avenues that might lead her to Lexie, Gail's hope never diminishes. Will she ever find Lexie?
Bowl of Fruit (1907) by Panayotis Cacoyannis
Leon Cheam's past is a labyrinth of truths, half-truths and untruths – not one story but many different stories at once, which Leon has been trying to put behind him. But ghostwriter Anna Tor knows much more about his history than he does, and when Leon reluctantly agrees to meet her, as they begin to trace together the two converging courses of their separate lives since their birth on the same September morning in 1973, the devastating secrets of the past are revealed one by one to bind them ever closer together.
Leon is a talented painter in the vein of Picasso, and has a slight obsession with Kafka's The Metamorphosis. As the story takes place over 24 hours, Leon and Anna discuss the past and come to some major revelations about a shared history. A beautifully written tale that finds the characters tracing roots back to a Chilean dictatorship in 1973.
Random Lucidity by Dave Adair
Struggling literary agent Reggie Hatcher believes he hits it big when he discovers a Jerry Travers, a mentally challenged man scribbling a world-class murder mystery into ragged notebooks in the park. Ignoring all of the red flags about this man and his all-too-real story, Reggie signs a contract with Jerry's unstable caretaker, Rita.
Reggie risks all he has to bring that story to the masses, not the least of which is his relationship with the stunning Meghan James. Reggie's life and the murderous rants of a troubled man are on paths that are destined to intersect. However, now Reggie is faced with impossible choices regarding his professional and personal life as he deals with demanding Rita, and attempts to save his relationship with Meghan. Will Reggie make the correct decision as everything boils over one crucial night?
A Family Affair (Truth In Lies: Book One) by Mary Campisi
When Christine Blacksworth's larger-than-life father is killed on an icy road in Magdalena, New York, a hundred miles from the 'getaway' cabin he visited every month, she discovers a secret that threatens everything she's always held to be true. Her father has another family which includes a mistress and a daughter.
Determined to uncover the truth behind her father's secret life, Christine heads to Magdalena, prepared to hate the people who have caused her to question everything she thought she knew about her father. But what she finds is a woman who understands her, a half-sister who cherishes her, and a man who could love her if she'll let him. The longer she's around them, the more she questions which family is the real one. If you enjoy A Family Affair, this is the first in a series of twelve books!
We all have stories about our families, sometimes they're tragic, sometimes they're hilarious (and often they're a little of both).  Reading about other people's experiences can be the best form of therapy.