Can it be that July 4th weekend is already upon us?
Nothing says "festive" like a three day weekend with fireworks, BBQ's and lounging on the beach with a  great book.
Not able to be poolside this year?  Choose from one (or more!) of the seven indie titles below and you'll feel like the tropics are coming to you…and check out the included kid's title too!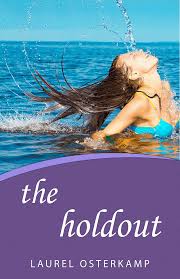 The Holdout by Laurel Osterkamp
Osterkamp's fun and fresh novel evokes memories of "Survivor," pitting contestants of a reality show against one another on a remote Phillipines island. The prize: one million dollars, and for Robin–deemed a wimp by her siblings–a little bit of dignity for proving her mettle. But that, quite literally, is only half the story.
Osterkamp juggles this plot with Robin's time serving jury duty, where some interesting parallels are drawn.
To Hold the Sun by Chas Watkins
This is a rather insightful book. Chas Watkins, an investigative reporter who wants a little something more in life, is treated to a week in paradise to interview a sort of enlightenment guru. In their dialogues, Watkins learns how to take control of his life, make better choices, and live a little better. It's not fiction, but readers will enjoy having their brains picked aside a bright, lush and relaxed tropical backdrop.
Tropical Knights by John F. Beckman
This voyage is no vacation in the sun; Beckman's Latin-flavored Cuban adventure is a high-stakes game that could mean the end of the United States.
Our hero Jack Stevens is living a relaxed, sun-soaked live in Florida before becoming embroiled in a suspenseful plot involving the Cuban Mafia, the CIA and Fidel Castro–quite the romp for page-turning fans of adventure.
Lemonade Revealed by Will Chluho
On the island of Ahio, Will Chluho treats us to a remarkable story on identity and coming of age.
We begin with a beautiful island in a bit of a state of upheaval after its king dies in a shipwreck. Three leaders of various branches of the monarchy–the military, the priesthood and industry–must come together to deal with the mess. But while the three must strike a balance in the absence of their king, they come across an amnesiac boy–shipwrecked like their king–whose own struggle for balance mirrors that of the island's.
The Tournament by Kenneth Kirkeby
Settle down in the Bahamas in this seafaring novel.
Kirkeby writes vividly, subjecting his protagonist Jim Neilson to a ruthless hurricane and describing Nielsen's Vietnam flashbacks in detail. The heavy narrative for inner peace before a tropical backdrop is offset by Nielson's attempt to woo an old sweetheart from his past, who happens to be visiting Little Cay–the setting for a fishing tournament Nielson is to compete in–as well. Those who love fishing will definitely love this book as well.
For Young Adults…
Kidnapping in Kaua'i by Ava Easter
Here's another book where a hot, summery paradise doesn't exactly mean relaxation.
After Leilani Lea chews on a mysterious unidentified fruit, ancient Hawaiian legends come to life. Through an imaginative magical realism novel aimed at young adults, Ava Easter takes readers on a quirky adventure that breathes new life in Hawaiian tradition, and you'll fall for the beautiful, picturesque tropical landscapes she deftly paints with words.
For the kids…
The Adventures of Starfoot and Brown by Rhoda Canter
This one isn't a tropical read, but its fun, off-the-wall tone set on an island off North Carolina makes up for it.
Rhoda Canter's story is aimed towards younger readers, but anyone can take delight in this book for animal lovers and those who care deeply for the environment. Readers will love the humorous personalities of the main character's two talking Chihuahuas as they try to save the island's turtles from dastardly turtle egg traffickers.