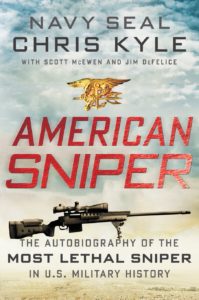 Gripping, eye-opening, and powerful, American Sniper is the astonishing autobiography of SEAL Chief Chris Kyle, who is the record-holding sniper in U.S. military history. Kyle has more than 150 officially confirmed kills (the previous American record was 109), though his remarkable career total has not been made public by the Pentagon.
In this New York Times bestselling memoir, Chris Kyle shares the true story of his extraordinary decade-long career, including his multiple combat tours in Iraq (Operation Iraqi Freedom) and elsewhere from 1999-2009.
Kyle's riveting first-person account of how he went from Texas rodeo cowboy to expert marksman and feared assassin offers a fascinating view of modern-day warfare and one of the most in-depth and illuminating looks into the secret world of Special Ops ever written.
Now a major, record-breaking grossing motion picture directed by Clint Eastwood and starring Bradley Cooper, this is one read that inspires you to consider something similar but different—check out these alike but indies and enjoy!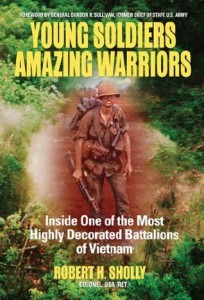 Young Soldiers, Amazing Warriors by Robert Sholly
This WINNER OF 20 AWARDS, including a Grand Prize and a Grand Prize Short List Award, is an absorbing, detailed and substantial memoir of military service on the ground in Vietnam, as well as a well-earned tribute to the brave young men with whom Sholly served.
Sholly writes both from his own perspective and that of his surviving men in his combat rifle battalion, with eye-witness accounts in their own words.
Young Soldiers chronicles the beginning of the famous "Nine Days in May" battles of the 4th Infantry Division in Vietnam and the heroes who fought them, including 4 Medal of Honor Winners. Personal accounts of boys become men reveal the riveting events of firefights, human wave attacks, hand-to-hand combat, overrun units, survivors, and sacrifice that combine to tell the story in action-packed detail.
Chopper Warriors: Kicking the Hornet's Nest by William Peterson
The narrative and scenes described in Chopper Warriors introduces many of the survivors of that Vietnam War. The true, interesting, guy-wrenching and often thrilling stories contained in the book are mostly true, from actual interviews done by the author, and the dialogue is written for all audiences from teenagers to adults, men and women alike.
Says Peterson, "As a storyteller, I have tried to recapture the events as they happened forty-five plus years ago.  Here, you may finally read about what your son, grandson, husband, father, or friend endured. Though honorable and often heroic, you can be sure the memories are horrible, and something they will never forget."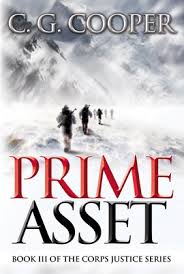 Prime Asset by C.G. Cooper
Enjoyed the memoir and nonfiction stories and looking for more? Here is a novel that won't disappoint!
Cal Stokes's good friend, Neil Patel, has disappeared. Following the trail to Jackson Hole, Wyoming, Stokes and his men must find the culprit and rescue their colleague before it's too late. The only problem is that the enemy lies in wait, hoping for a final showdown. With an outside group of aggressors making a play for dominance, the former Marine must lead his team through the hazardous snow-filled mountains to eliminate their adversary. How many bodies will be left when the snow melts? Definitely worth a read to find out.
Sold Out (Nick Woods Book 1) by Stan R. Mitchell
Nick Woods used to be one of our country's greatest snipers, but now he's just a bitter veteran living out in the country, struggling with PTSD and extreme paranoia.The former Marine Scout Sniper doesn't trust anyone, and for good reason after the government betrayed him. Nick did his part and completed the top-secret mission, but a few members of the CIA thought it best if he were killed and all loose ends tied up.
Unfortunately for them, Nick's a hard man to kill, and he lives mostly off the grid under a hidden identity these days. But Nick is about to get caught in a grand conspiracy between a senior investigative reporter and a shadowy, CIA group. After said reporter, Allen Green, breaks the details of Nick's story — blowing the top off America's national security — both Nick and Allen find themselves in the sights of a CIA hunter-killer group.
Hot Extraction (SEAL of Fortune Book 1) by Laura Day
Who can resist some romance thrown in with the concept of an elite warrior on a mission? Veronica Baker always knew growing up that she wanted to be a scientist just like her daddy. She worked hard to graduate at the top of her class, and was thrilled the day she started work at her father's lab. When her father leaves on a trip to visit prospective investors, she assumes it will be business as usual, but when she stops hearing from him, Veronica assumes the worst and catches the first flight she can to try and track him down.
When Ryker Evans learns that he's shipping out to Lebanon to complete a solo mission, he's not pleased. His last mission in Lebanon didn't end so well, and he's not eager to head back, but as the SEAL with the best track record in the navy when it comes to search and rescue, his CO doesn't give him a choice. When he finds out that he's being sent to extract an American woman who believes her father has been kidnapped, he's even less pleased. He can't stand civilians who want to be heroes, and his plan is to pull her out and get home, quickly and quietly. But stay tuned…sparks do fly!
No matter what genre you prefer, there is something for all in these military accounts. Whether fiction or memoir, you'll surely find something to further whet your appetite if you enjoyed American Sniper.