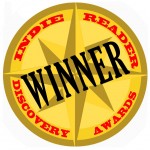 What is the name of the book and when was it published?
Smile: Sell More with Amazing Customer Service. Published November 29, 2012.
What's the book's first line?
This book is based on the simple premise that good service is good business — that if you treat your customers right, you'll be rewarded in return.
What's the book about?  Give us the "pitch".
Smile is a crash course in customer service and sales. You can read it in 60-minutes or less and start increasing your sales today. I wrote Smile to help businesses quickly and easily train their staff and instantly increase sales or donations. Let Smile be your trainer! A quick, 60-minute read, it could easily be the best one-hour gift you ever give yourself or your employees. Smile has won 6 awards and is being featured in the July issue of STORES magazine, published by the National Retail Federation. Create profitable, lifelong customers in 60 minutes or less.
What inspired you to write the book?  A particular person? An event?
Early in my career, I established, owned, and ran a highly successful award-winning specialty store. Fundamental to its success was a six-week employee training program that I created to guarantee outstanding customer service, ensure repeat business and positive word of mouth marketing, and maximize sales. The results were nothing short of amazing. In Smile, I've collected together powerful tips and techniques from this training program. Smile is the book I wish I would have had when I owned my business. 
What's the most distinctive thing about the main character?  Who-real or fictional-would you say the character reminds you of?
No main character, just lots of practical and quick easy to apply techniques. "The Essential 60-Minute Crash Course" makes Smile distinctive. I do have a terrific quote from Ben Cohen of Ben and Jerry's Ice Cream at the start of my introduction: 
"When we give, we receive — when a business does something good for somebody, that somebody feels good about them."
What's the main reason someone should really read this book?
To increase sales.