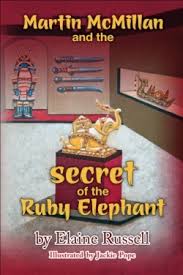 1.      What is the name of the book and when was it published?
Martin McMillan and the Secret of the Ruby Elephant — published July 2012
 What's the book's first line?
"Martin racked his brain for something clever to say."
What's the book about?  Give us the "pitch".
In the second Martin McMillan book, thirteen-year-old Martin and his friend Isabel skate their way through this fast-paced adventure, traveling from Chicago to Thailand to solve the theft of the Ruby Elephant. The 15th century Thai statue is part of a mysterious legend that holds the secret to a hidden treasure. The friends must decipher a complicated puzzle of clues based on Buddhist symbols and artifacts at archeological ruins, as they track down the thieves and try to stay out of harm's way.
What inspired you to write the book?  A particular person? An event?
I began writing the Martin McMillan series when my son was ten years old. He was a good student, but it was hard to find books that held his attention. I used his interests in skate boarding and our family's love of travel to write stories that would appeal to reluctant readers, particularly boys. These fun and exciting stories also introduce kids to the history, art, and culture of other countries. My family in Spain provided the inspiration for Martin's friend Isabel.
What's the most distinctive thing about the main character?  Who-real or fictional-would you say the character reminds you of?
Martin is a somewhat hapless and not overly brave kid who Isabel leads into unexpected situations. But he rises to the occasion to solve the mystery and save the day. There are aspects of my son at that age in Martin's character.
What's the main reason someone should really read this book?
Martin McMillan and the Secret of the Ruby Elephant is a fun, fast-paced adventures that will capture kids' interest while also introducing the history, art, and culture of Thailand.
https://indiereader.com/wp-content/uploads/2013/06/martin.jpeg
275
183
IR Staff
http://welldesignstudio.com/client/indiereader/wp-content/uploads/2016/12/ir-logo-2017.png
IR Staff
2013-06-04 08:22:34
2013-06-04 09:56:14
Author Elaine Russell on IRDA Winner "Martin McMillan and the Secret of the Ruby Elephant"