Chris Matthews' biography of John F. Kennedy, "Jack Kennedy: Elusive Hero", was first published by Simon & Schuster in hardcover in 2011 with the pictured error.
That is where, on page 117, Matthews refers to John F. Kennedy's younger brother, Robert F. Kennedy, as "Robert Fitzgerald Kennedy."  The middle initial in Robert Kennedy's name stood for Francis, not Fitzgerald.
The text from paperback version of the title (which Matthews has recently been spending so much time plugging), may or may not have been corrected.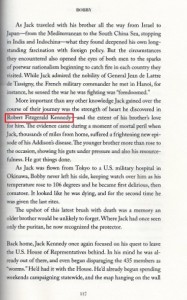 Hopefully Bill O'Reilly's editor was more careful with his book, "Killing Kennedy".
Like What You're Reading?
Subscribe for the latest indie book reviews and news, features, tried-and-true author advice and exclusive promotions, delivered to your inbox.