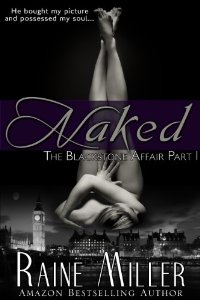 "When people ask me how I've done it I say this: 'Writing is something you have to really want.' You have to want it more than anything else," says Raine Miller, New York Times Bestselling author of The Undoing of a Libertine, All In (The Blackstone Affair, Part 2), Naked (The Blackstone Affair, Part 1), and His Perfect Passion.
In the middle of being a dedicated mom and writing in every spare moment, Raine Miller is full of "creative motivation," and she's not stopping there. "When the creative juices are flowing, you have to go with it and let the story materialize," she adds.
Loren Kleinman: I like how you tell your audience about the idea behind Naked in the Acknowledgments section of the book.  Why was this exchange so important to you? 
Raine Miller: I wanted people to understand my inspiration for the book.  I did not plan to write the story—the story just…happened like that.
LK: You also mention that your "other projects had to be set aside so [you] could devote [your] time to writing this new series." I meet artists that spread themselves so thin between multiple projects. Why is it important for writer's to manage their time effectively so that they don't face burn out.
RM: There is a fine line between burnout and creative motivation.  New projects are exciting for me and that feeling of being absorbed into new characters and plot lines is somewhat of a rush.  When the creative juices are flowing, you have to go with it and let the story materialize.  To just ignore that is a wasted chance.  For me, the ideas come on suddenly and then are lost just as suddenly if not explored.
LK: Talk about being a mom, being indie, and staying focused on your writing projects.
RM: When people ask me how I've done it I say this: 'Writing is something you have to really want.' You have to want it more than anything else.  When most people are watching TV or having recreational downtime, I am writing.  For the past four years, I've been writing in all my spare moments, or free time as it were.  My children are older and not so dependent upon me as they would if they were very small.  They are supportive of my writing and proud of their mom's accomplishments.  I am blessed with two very wonderful and wise sons, and pretty proud of them too.  As for being indie, it has changed my life.  I have two conventionally published novels with a small press.  Those two books had some moderate success and provided valuable learning opportunities for me about writing and publishing, but going indie for The Blackstone Affair has opened doors for me that would never happened if I'd submitted the books to a publisher initially.
LK: Why London?
RM: It's one of my favorite cities in the world.  I've been several times and think it's magnificent.  I also wanted to do something very contemporary and having the book take place in London circa Olympic Games 2012 is about as current as you can get.
LK: What was the literary structure of Naked?
RM: Naked is merely the first part of "The Blackstone Affair" trilogy.  Told in first person from the heroine's point of view, we see her attraction to Ethan Blackstone and his dominant ways as unexpected and atypical to how she usually reacts to men.  We get some foreshadowing but not much as the main goal is to establish the combustive attraction these two people have for one another.
LK: How do you go about outlining your characters?
RM: I start with character bios.  I describe them in great detail from physical characteristics, age, family history and dynamics to emotional grids and past relationships.  I do this fairly quickly and keep adding to them as I write.
LK: I like that your characters seem based in reality. There is something very down-to-earth about their sexuality. You have characters almost analyzing each other's beauty in a way that is real to them. Was this intentional?
RM: I think it is.  I realize I am writing escapist romance stories, but I strive to make my characters very realistic.  For example, they can be wealthy but must be capable of driving their own car and making a pot of coffee.  The most successful people did not arrive there without knowing how to be self-sufficient.  Writing sexual scenes that are sexy but remain within the bounds of normalcy is also important to me.  Ninety nine percent of the population does not have five plus orgasms in a day.
LK: Will you always stay indie?
RM: I hope I will always have some projects that are indie, but not everything will be.
LK: What do you think about 50 Shades of Grey? Do you think it opened the doors for the spike in erotica self-pubbed books?
RM: Fifty Shades kept me interested enough to read all three parts.  There was something very engaging to the story, even if some elements were not to my taste.  It had more of a YA feel to the story than is my preference but nothing critical about the author's voice.  She hit one out of the park on her first "at-bat".  And yes, without a doubt, Fifty Shades changed erotica for the good.  Those books opened up this huge untapped market insatiable for more stories in a similar genre.  Fifty also brought in a huge crowd of "first-time" readers who were eager for their second and third book.  The success of that series only helped erotica to gain momentum.
LK: What are you reading now? 
RM: Rapture by JR Ward
LK: Complete the sentence: A good erotica book must include …
RM:…sex scenes that don't read as porn.
LK: What do you think is the key to becoming a best selling author?
RM: For me it was the time spent on Facebook in my writing groups and reading clubs.  Networking and befriending bloggers who read my book and then reviewed it on their blog sites was immeasurable to getting the word out about my series.  Lots of readers rely on blogs for recommendations.  Without a doubt, those first few bloggers propelled my books to commercial success.