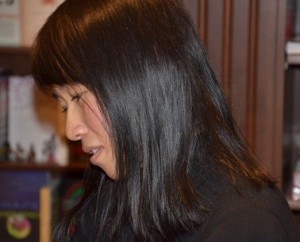 In a Q & A with IndieReader which took place last season, Eden Baylee describes erotica as the "genre that touches [her] senses."
In her latest collection of novellas, Spring into Summer, Baylee satisfies the senses with intense intimate scenes that chain and bind us in the soft underbelly of love, loss, and sex.
Spring into Summer traces the lives of four women in London, Dublin, Cape Cod, and Bangkok as they explore sexual (and very human) desires that push the boundaries on heart-beating-beating lust.
The first two stories set us in spring, the season of renewal and rebirth; while the second two stories leave us in the summer—a time of pleasure. With every turn in story (and season), Baylee builds a slow, unforgettable climax.
Baylee creates powerful scenes and characters that encourage us to explore our own sexual fantasies and needs.  In the novella "A Season for Everything," Claire Pelletier meets a professor that teaches her more than academia; in "Unlocking the Mystery" Evelyn Sutton gets more than what her heart bargains for; in "Summer Solstice" Ava Connors pushes the limits on sexual fantasy; and in "The Lottery" Sierra Zhao surrenders her body in order to help a friend.
Baylee is not simply writing sex. In Spring into Summer, she combines literature and erotica in a way that is both believable and charming with characters that earn our respect and hearts. "The imagination of a reader is a wonderful thing," says Baylee. "[It's] what I hope to stimulate when I write." We certainly are stimulated Eden.
Let's not stop here.
Read more on Baylee's attraction to erotica, dolly bird trivia, and what's next in the Q & A. Full-fledged arousal guaranteed.
LK: Why were you drawn to erotica?
EB: Erotica is a genre that touches all my senses, so I enjoy spinning words onto a page to enable readers to feel the same. I love being turned on as it makes me feel alive.
From an intellectual perspective, it's a genre I first read when I was eleven, and the book was Story of O by Pauline Réage. It's a classic novel—BDSM. It set the stage for my young mind.
LK: Spring into Summer focuses on the sexual fantasies of four women.  What is the connection between fantasy and erotica?
EB: Actually, this book is less about fantasy than my first book, Fall into Winter, but of course fantasy always has a role. Erotica is a prelude to arousal. People read it to become turned on by words. Fantasy for me is the mind filling itself with images based on these words.
The imagination of a reader is a wonderful thing, and it's what I hope to stimulate when I write. If you're turned on by a good story with varying degrees of erotic elements, you'll like my writing.
LK: Why did you choose to write Spring into Summer and Fall into Winter as a series of novellas?
EB: I originally wanted to be traditionally published, so I wrote individual stories for specific publishers. I'm very happy I got rejected by each and every one of them because it pushed me toward the indie route.
I packaged four stories into each book, two for each season. I thought it was the best way to expose my writing and show my diversity as a writer.
LK: Talk about your writing process for Spring into Summer. What inspired this collection?
EB: I'm not much for process because I'm a "pantser." Ideas come to me and I write, write, write. I don't deconstruct how I do it.
My inspiration was poetry. I've connected with some wonderful poets over the past year, and they've re-organized the way I think and write. Some stories are more sensual than sexual, and the language is more lyrical in this book.
LK: What is a "dolly bird"?
EB: Ha! The term "dolly bird" has various meanings, but I pictured it to describe an upbeat young English woman, filled with life, and smart as a whip, just like you Loren!
A dolly bird inspired the character of Brenda Williams—a woman in the very first story of my book called "A Season for Everything."
LK: What's next?
EB: I'm moving toward writing full-length novels. I love the genre of short stories, but it's time to try something new. Whatever the genre I write in, however, erotic elements will be a part of it.
I'm excited for the change and the challenge, and I hope my readers will be as well.
***
Thanks so much for the opportunity to share with your readers, Eden.