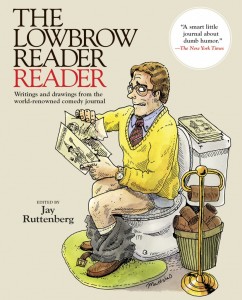 There's the traditional publishing industry (TPI). And then there's the vast overlooked space that resides outside the industry, but where books are still made.
In the TPI, problems often flare like flu symptoms and threaten to overtake the entire organism. That's where we're at now in the book biz: it's a body in peril. But sometimes the most interesting solutions come from outside its faculties, from people who don't have much at stake in the industry and are merely trying to get a rise out of their friends.
Have I introduced you to Jay Ruttenburg and the folks at Drag City before?
Last week, I rang Ruttenburg, a New York-based humorist and journalist. We talked about his new book, The Lowbrow Reader Reader, an anthology collected pieces from the comedy 'zine he started in 2001. The book was recently published by Drag City, an independent music label from Chicago, a fact that in some ways has brought Ruttenburg's life full circle.
To understand what it might mean to have your book published by an imprint best known these days for releasing Joanna Newsom albums, you have to know where Drag City started and what they've come to mean to a certain generation of culture vultures. Drag City doesn't have a publishing model, per se. But they do have a vision they've applied to all their other ventures, which have included films and events. The essence of a Drag City product starts at a sort of nexus of pleasure: where the artist's joy in making a thing meets the reader's pride in owning it. From this point on in the story, I implore bankrupt publishers to read closely and take notes.
Since 1989, Drag City has been a strangely unchanging force within the music industry. As a record label, they have adjusted incrementally to these perilous, digital times for music merchants. But unlike similarly influential indie labels from the pre-file sharing age, like New York's Matador or Durham's Merge, Drag City has for its listeners retained the derring-do that made it feel like an affront to the nice-guys-finish-last world of show biz, back in the '90s.
More quietly, but not without its own impact, Drag City has published over a dozen books. The first was Victory Chimp, a whimsical foray into science fiction by Neil Hagerty, whom label devotees already knew from the band Royal Trux. That book was published in 1996. Volumes by other writers followed sporadically and, from an outsider's perspective, amounted to very little in the way of a cohesive brand for the imprint. Like Drag City's music, their books tend to be dead witty, smart, ironically-arty, but wholly inimitable. Beyond those qualifiers, it can seem a bit of a crap shoot.
I spoke with Rian Murphy, who's worked with the label in a wide variety of roles since the beginning, about why Drag City got into publishing. "In the early days, before a couple years had passed, we'd done some videos, we had booked a tour," Murphys says. "So the idea was: whatever it takes [to make an impact]. The environment that immediately preceded us in the '80s where you had labels like SST and Touch and Go and Discord, who had made a great impact starting from nothing and was certainly an influence on Drag City."
What kind of impact did Drag City hope to make? It's a tricky question. If the brand has assumed a consistent stance in its 23 years, it seems to be one of falling down and laughing — not out of scorn for the culture around it, but because, deep down, it cares maybe a little too much. Drag City's sense of humor doesn't come from the typical satirist's perspective of being outside and below the general vicinity at which it points its finger. The Drag City point-of-view is of the tragically enmeshed. It's the punk's paradox, this snottiness verging on snootiness. And, these recent generations that have passed from Jenny Holzer to David Foster Wallace to Miranda July have all taken to Drag City like a second skin. Here's a credo for you: if you're not laughing, you're probably lying.
In many ways, Drag City's values are embodied in Ruttenberg, who, when I called him, spent the first five-minutes of our chat apologizing for missing my call at the originally appointed time, five minutes before. Ruttenberg is 36, more polite than me (a rarity), naturally witty in a way that is surprisingly uncommon among the professionally funny, and, most impressively, he is breezily conversant about comedy history, his chief obsession.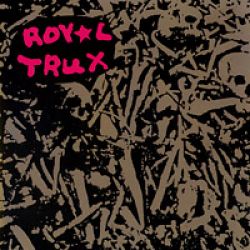 For Ruttenburg, it's hard to overstate the impact Drag City had on him. He refers to the "intense appetite" for music the label opened up in him, when as an 18-year-old freshman in college, he discovered a cache of seven-inch records by the band Royal Trux. Like many boys learning to be men, Ruttenberg's life seemed to organize itself around music and comedy. Unlike many boys learning to be men, though, Ruttenberg was doing the organizing. One gets the impression he is incapable of being a casual fan of anything. He is a doer, not a consumer. And his can-do spirit in no small part attributable to the example Drag City set for him.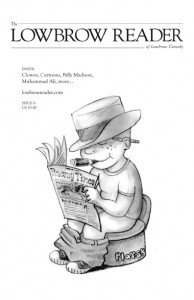 Ruttenberg started The Lowbrow Reader as a zine, ten years ago. At the time he had just moved to New York after a ten-month stay in Portland, Oregon. He was 24, newly transplanted to the capital of Earth, and itching to do … something.
Ruttenburg saw a sizable niche to fill. For years, he had noticed an imbalance in journalism. While music — particularly indie rock — was debated every which way (and this even before blogging took hold), comedy seemed to receive short-shrift in the cultural conversation. His idea was to publish a zine that would review the movie Billy Madison with as much fervor and acuity as, say, Pitchfork liked to invest in the Strokes.
"Though one of the original inspirations for The Lowbrow Reader was the earlier rock criticism," Ruttenberg says. "Like Greil Marcus and Robert Cristgau, who were writing about something that at the time — in the late '60s and early '70s — was still a culturally disparaged art form."
Ruttenberg can't pinpoint a certain issue where the eclectic ingredients started to gel, but by issue five in 2006, the zine hit its stride, offering a selection of commentary, short stories, comics, funny poetry (often by the stand-up legend Shelley Berman), and whatever else Ruttenberg deemed worthwhile.
Ruttenberg's has been a consistent voice, including his moving essays on heroes as diverse as Don Rickles and Gene Wilder. But during our talk it started to become apparent how much the sense of collaboration and camaraderie has kept the publication going. It was after a rare gathering in New York of Lowbrow contributors and colleagues, to celebrate the launch of issue seven in 2009, that the idea first came up to collect the best of the zines into a book.
"Some of us went to dinner and Mike Ready, an illustrator, he started giving me shit about how we hadn't done a book," Ruttenburg says. "That had never been a goal. But with almost ten years of hindsight, I began to see there was some good stuff here."
The next step was for Ruttenberg to find a publisher, which turned out to be his easiest move of all. Since moving to New York, Ruttenberg had made his living as a journalist writing for The New York Times and Time Out, among other publications. He had written thousands of pieces of music journalism in that time, keeping up with the label that had such a profound influence on him his first term in school, over fifteen years before.
"When I decided to do the book the absolute place I wanted it to be was Drag City," Ruttenberg says. "I didn't even ask anyone else. I spoke to them and when they said they were interested, that was it. Let's just say it's a good thing they're good people, that they're not like: you know what we're going to publish this on sandpaper and you have to pay us."
When Ruttenberg approached Drag City, the bottom-line aware indie saw the strong readership The Lowbrow Reader had attracted. It seemed an opportunity to give their publishing model another whirl.
"I would imagine that most people who are in the business and are writing would like to see their book in a nice hardcover or softcover edition," Murphy says. "I'd be very interested to meet the next generation of writers who are like, 'when I saw my book on the Kindle, that's when I knew I'd finally achieved my dream.' And maybe there are. It doesn't seem so crazy now that I say it. But I view us as a company that wants to make a really nice object and is appealing not just in your anticipation of the content between the covers but in the covers themselves — the endpapers, the font. Everything. But to bring that experience, which has been so pleasurable for so many hundreds of years, into the age we're in right now."