This week Reader's Retreat heads to Chi-town!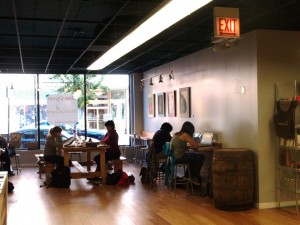 Chicago may be known for deep-dish pizza and all-beef frankfurters, but now delicious coffee and cozy cafes can be added to the list. Windy-city residents can enjoy a nice cup at Urban Orchard. After shopping in Edgewater's neighborhood organic market, customers can take a break and read the morning paper in the sunlit café area. They support other small businesses in the area by serving locally baked pastries and Metropolis & Dark Matter coffee.
Urban Orchard
5212 N Clark St Chicago, IL 60640 (773) 754-7235
http://myurbanorchard.com
*********************************************
This Week's Reader's Choice
Speaking of Metropolis; they are this week's Reader's choice. David, a Chicago resident, says the Rogers Park coffee shop is both urban and academic. They often host live bands and poetry readings. A wonderful establishment with "great characters all around, rumpled couches, chairs, donated books & a writer's best friend – great coffee."
Thanks David!
Metropolis Coffee Company
1039 W Granville Avenue Chicago, IL 60660 (773) 764-0400
http://www.metropoliscoffee.com
Can't wait until next week? Writer's Retreat New York Edition is already available at McNally Jackson, Amazon and B&N. Other cities are available for pre-order on our Kickstarter page.
*******************************************
Know a great cafe to curl up and read (or write!) a good book?  Send the deets to Juliet at contact@julietobodo.com and we'll possibly feature in an upcoming post!  Or send us a tweet at #greatplacetoread.